Precise, overwhelming and effective – Pentagon gives details of Syria strike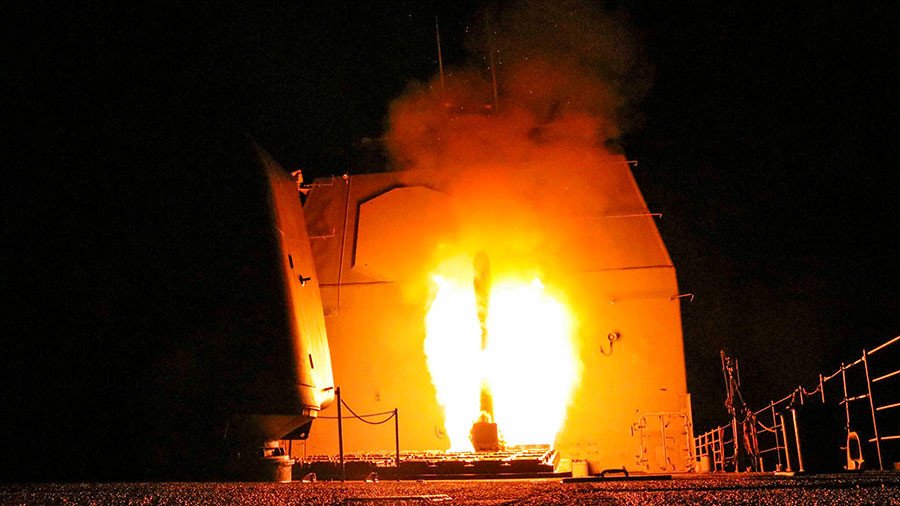 The Pentagon hailed its strike on Syria as effective, saying that they set the country's "chemical weapons" program back years, by "crippling and degrading" it. The US military claims there were no civilian casualties.
Lieutenant General Kenneth F. McKenzie, the director of the Joint Staff, briefed reporters on details of the strike. He claimed that the Syrian air defense efforts were "largely ineffective," saying that "no Syrian weapon had any effect on what we did."

McKenzie said that the attack by the US and its allies targeted three sites in Syria, which he described as "the heart" of the country's chemical weapons program. "We accomplished our military objections" and "dealt a severe blow" to the Syrian government's ability to produce chemical weapons, he said.
The strikes targeted research and development facilities to incur more damage, he added. When asked if there was the danger of chemicals spreading during the strike, the Pentagon representative said that there were no leaks.
Pentagon spokeswoman Dana White claimed during the briefing that OPCW representatives were blocked from going to Ghouta. "[The] OPCW have been blocked from entering Douma. That's because of the Assad regime. Everything that's happening is… the fault of the Assad regime," she said.
The strikes took place hours before the chemical weapons watchdog was to start its fact-finding mission at the site of the alleged attack after the Syrian government and Russia guaranteed them full access.
Journalists asked White why the US military would not share the evidence they had of the chemical attack. "We are very confident of our evidence," she said, claiming that the Pentagon can't share classified intelligence.
The attack wasn't coordinated with Russia, but "the de-confliction channel [between the US and Russian forces] operated before and after the strike," McKenzie said. "The Russian air defenses weren't employed" as Syria was hit by missiles, he added.

"The Russians don't have a veto on anything we do. We're not cooperating with them [on Syria]. We don't want a fight with them. And they don't want to fight us," the general said.
Early on Saturday, Washington and its allies unleashed more than 100 missiles on civilian and military facilities in Syria in response to an alleged gas attack in Douma on April 7 that has been widely blamed on Assad's government. Contrary to the Pentagon's claims, the Russian Defense Ministry said that the Syrian air defense systems intercepted 71 cruise missiles and air-surface missiles fired by the Western coalition.
You can share this story on social media: