Arizona promises teachers 20% higher pay by 2020
Published time: 13 Apr, 2018 00:07
Edited time: 13 Apr, 2018 11:17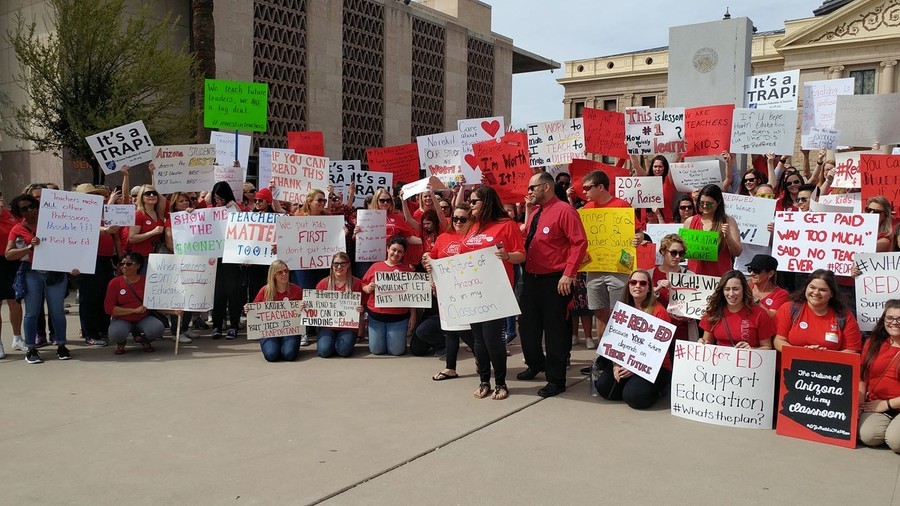 Teachers in Arizona could see a 20 percent net salary increase by 2020, according to a proposal by Republican Governor Doug Ducey that is intended to stave off a major teacher strike like the ones in Oklahoma and West Virginia.
Ducey's proposal would see average teacher pay rise from the current $48,723 a year to $58,130 by the start of 2020. However, it rules out giving pay raises to other school staff and increasing funding for other school programs, as demanded by teacher unions backed by the Democrats.
Here's how Gov. Doug Ducey's proposal to increase Arizona teacher pay works out: 1% increase in FY 2017, 9% in 2018, 5% in 2019 and 5% in 2020 for total of 20% by 2020.

— Anne Ryman (@anneryman) April 12, 2018
"What I've heard from teachers is that they don't want to walk out — they want to solve this problem," Ducey told KTAR radio. "And I'll tell you the people that are playing politics, they want to walk out."
Emboldened by recent teacher strikes in Oklahoma and West Virginia, teachers in Arizona explored a 'walk-in' earlier this week and pondered a date for walking out of the classrooms in pursuit of their demands.
Nine-day strikes in West Virginia and Oklahoma put pressure on the states' Republican administrations. West Virginia teachers received a five percent pay raise. In Oklahoma, legislators agreed to raise taxes in order to increase education spending to the tune of $450 million, though the striking teachers asked for $600 million.
The Oklahoma Education Association called for an end to the walkout on Thursday, encouraging teachers to "support pro-education candidates" in the 2018 midterm elections.
Think your friends would be interested? Share this story!