Last-ditch deal ends West Virginia teachers' 9-day strike
Published time: 6 Mar, 2018 16:30
Edited time: 7 Mar, 2018 08:25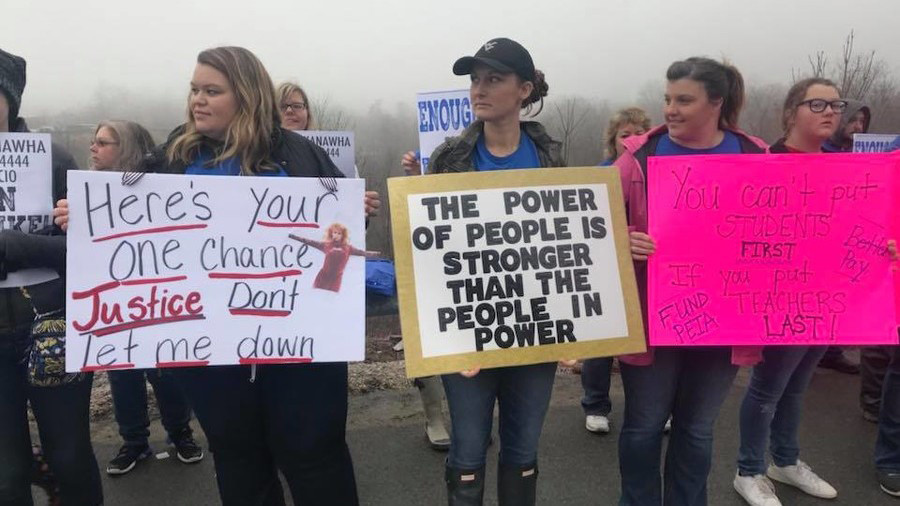 West Virginia lawmakers have agreed a deal to end the state's biggest teachers' strike in 30 years. The walkout over pay and healthcare lasted until educators' demands were met after years of broken promises.
Governor Jim Justice tweeted on Tuesday morning that a deal had been reached in a last-minute conference committee, with all state employees to receive a 5 percent salary increase.
The tentative agreement follows several days of impasse between the the West Virginia House of Delegates and the Senate. Governor Justice, union leaders and the House of Delegates agreed to a 5 percent pay raise for the teachers but the Republican-dominated Senate offered only a 4 percent increase so no deal was struck.
Teachers had assembled inside the state Capitol on Tuesday morning to put pressure on lawmakers to agree a deal.
Rallies throughout the state were held for nine days with much public support. Dale Lee, president of the West Virginia Education Association, told RT America's Ed Schultz on Monday that he had "never seen the education community so united."
West Virginia teachers are among the lowest paid in the nation, while the state's poverty rate hovers at 17.9 percent. Teachers last received a salary raise in 2014 and many claim they have to work second jobs to make ends meet.
Lee said that teachers were promised by lawmakers in 2014 that teachers' salaries would increase to $43,000 by 2019, but this was reneged upon. This contributed to "mistrust of the legislator" and meant teachers would not back down without a firm deal in place.
Meanwhile, the Public Employee Insurance Agency (PEIA), which provides healthcare to teachers, has been reducing benefits in the face of rising healthcare costs. Teachers were demanding greater state funding for the PEIA to offset this.
"We feel like we're under attack constantly," Cody Thompson, a social studies and civics teacher at Elkins High School, told local news outlet WVVA.
"Eventually, whenever you're pushed into a corner, you've got to push back."
It's the first statewide teachers' strike in almost 30 years in West Virginia. Over 270,000 students have been affected, according to the latest enrollment figures from the state Education Department. Many students rely on free breakfasts and lunches from school.
The average starting salary for a teacher in West Virginia is $32,435 per year, while the average teacher's salary is $44,701, according to the West Virginia Education Association.
A GoFundMe strike fund for West Virginia teachers has amassed over $250,000.

Think your friends would be interested? Share this story!