Trump: 'I never said when attack on Syria would take place'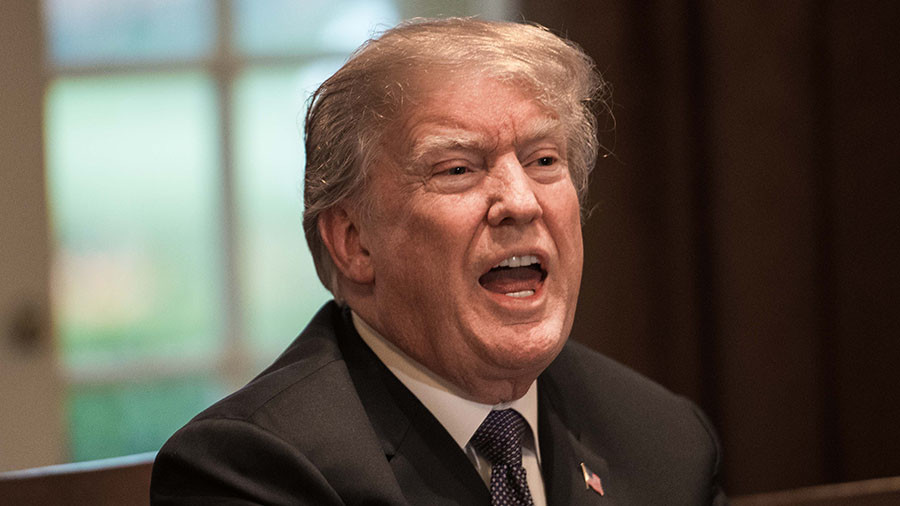 US President Donald Trump has taken to Twitter to clarify that he never specified when the US would conduct an attack on Syria.
"Never said when an attack on Syria would take place," Trump wrote on Thursday. "Could be very soon or not so soon at all!"
Trump also credited his administration with defeating ISIS in Syria. "In any event, the United States, under my Administration, has done a great job of ridding the region of ISIS. Where is our "Thank you America?" he tweeted.
Trump's tweet comes a day after he warned Russia to "get ready" for a missile strike on Syria. The US is considering a military response over a reported chemical weapons attack on the rebel enclave of Douma on April 7.
READ MORE: 'We hope you come to your senses': Russia warns US against illegal Syria strike
Syrian President Bashar Assad has been accused of being behind the purported incident, but the US said it also holds Russia responsible for failing to prevent Assad from conducting the alleged attack.
White House spokesperson Sarah Huckabee Sanders said Wednesday Trump "holds Syria and Russia responsible for this chemical weapons attack," and said "all options are on the table."
READ MORE: 'We have options': Sarah Sanders sounds like broken record when grilled on Trump's Syria plan
Earlier this week, Russia's permanent representative to the UN, Vassily Nebenzia, pointed out that the alleged incident was beneficial only to the militants. Russian military specialists visited the site and said they found no signs of a chemical attack or any victims.
The Organization for the Prohibition of Chemical Weapons, the UN's chemical weapons watchdog, said back in June 2014 that all stockpiles of such material had been removed from the country.
Trump tweeted Wednesday that Russia should "get ready," because missiles "will be coming, nice new and smart!"
Russia responded to Trump's threat by calling on common sense to prevail. "We do not participate in Twitter diplomacy," Kremlin spokesperson Dmitry Peskov said. "We support serious approaches. We continue to believe that it is important not to take steps that could harm an already-fragile situation."
Think your friends would be interested? Share this story!