US will act against 'monster' Assad with or without UN ‒ Haley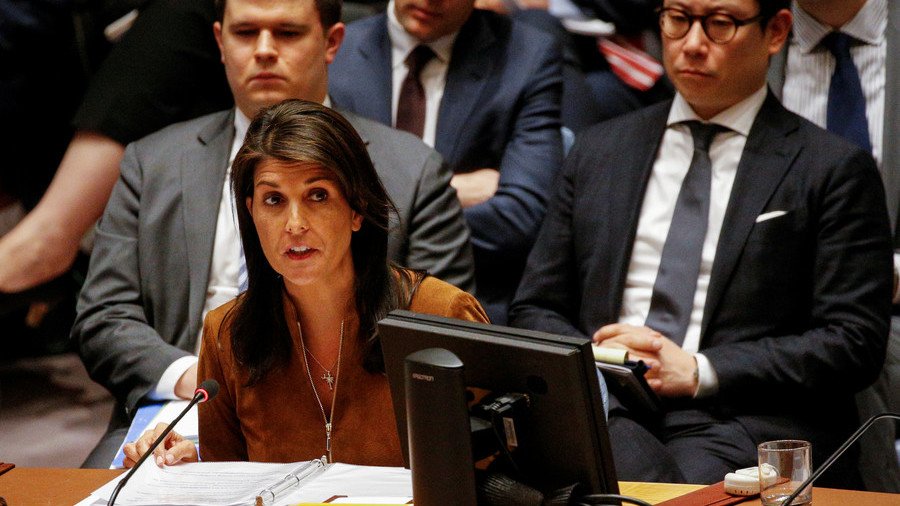 The US will act against the Syrian government with or without a UN blessing, US envoy Nikki Haley told the Security Council, blaming Russian "obstructionism" for allowing the alleged use of chemical weapons in Syria and beyond.
"We are beyond showing pictures of dead babies. We are beyond appeals to conscience. We have reached the moment when the world must see justice done," Haley declared to the Security Council on Monday, accusing Russia of backing the "monster" [Bashar] Assad, who was murdering children with chemical weapons.
"The Russian regime, whose hands are all covered with the blood of Syrian children, cannot be ashamed by pictures of its victims. We've tried that before," Haley said, adding that "no civilized government would have anything to do with Assad's murderous regime."
Moscow has challenged claims, made by the Western-backed NGO 'White Helmets' and Jaysh al-Islam (Army of Islam) militants, that the Syrian government conducted a chemical attack against civilians in the Damascus suburb of Douma. Russia's envoy to the UN Vassily Nebenzia called it "fake news," noting that no traces of the alleged attack were found in the area after Syrian troops liberated it from the militants.
Haley, however, spoke of the attack as if it and the Syrian government's culpability were proven facts. If the UN refused to follow Washington's lead and intervene in Syria due to "Russia's obstructionism," Haley said, the US will go it alone.
"History will record this as the moment when the Security Council either discharged its duty or demonstrated its utter and complete failure to protect the people of Syria. Either way, the United States will respond​​​," she said.
Earlier in the meeting, Nebenzia had warned the US and its allies of the possible "grave consequences" of unauthorized military action against Syria, where Russian troops have been legally deployed at the invitation of the country's internationally recognized government.
"What [the] military misadventures of the West bring about is well known, as shown by the examples of Yugoslavia, Iraq and Libya. Nobody has vested you with the power to act like the world's policeman, or to act like the prosecutor, judge, and executioner either," he said.
The US cited humanitarian concerns to launch NATO attacks on Yugoslavia in 1999 and in Libya in 2011. The latter began as the UN mandate to establish a no-fly zone and, within days, turned into a "regime change" operation. In 2003, the US invaded Iraq without UN authority, claiming the threat of Iraqi nuclear and chemical weapons of mass destruction (WMD). No such weapons were ever found.
Like this story? Share it with a friend!
You can share this story on social media: