Muslims charged with violent plots get longer sentences, more media attention – study
Published time: 6 Apr, 2018 01:29
Edited time: 13 Jul, 2018 09:04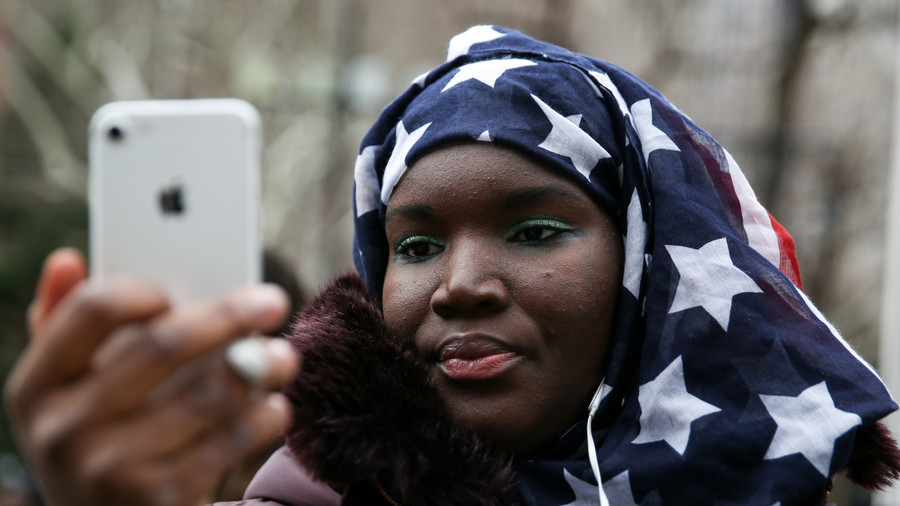 Muslims accused of plotting violence in America get seven times more media attention and four times longer sentences than their non-Muslim counterparts, a new study claims.
Published by the Institute for Social Policy and Understanding (ISPU), an American Muslim advocacy group, the study claims that the American justice system treats Muslim perpetrators differently than other criminals. All of the perpetrators studied had carried out or plotted "Ideologically Motivated Violence," whether it was in the name of Islam, white supremacy, or another ideology.
What made the difference in court, the study found, was the background of the defendant.
Prosecutors sought longer sentences for Muslim defendants, seeking an average of 230 months compared to 76 for non-Muslims. Sentences imposed by the courts followed the same ratios, with Muslims receiving an average of 211 months; four times longer than non-Muslims, at 53 months' average.
The attacks studied took place between 2002 and 2015. Omar Mateen's 2016 attack at the Pulse nightclub in Orlando, Florida, was not studied, despite receiving widespread media coverage and being a clear case of ideologically motivated violence. Nor was the 'Crusaders' plot to bomb a mosque in Kansas.
Mateen killed 49 people and injured 53 more in what was the deadliest mass shooting by a single shooter in American history, until the Las Vegas strip shooting a year later. During a call to 911, Mateen identified himself as an "Islamic soldier," and pledged allegiance to Islamic State (IS, formerly ISIS).
The 'Crusaders' is an anti-Muslim militia which planned to detonate four car bombs the day after the 2016 election. Their targets were a mosque and an apartment building – home to a sizeable population of Somali migrants – in Garden City, Kansas. The plot was foiled by an FBI informant.
Muslims caught in bomb plots were more likely to be charged with possession of weapons of mass destruction, instead of the more minor possession of explosives. A defendant facing 'ordinary' explosives charges usually ended up with less than five years in prison, whereas a defendant whose explosives were classified as WMDs usually faced a 20-year sentence or longer.
Interestingly, undercover law enforcement agents or informants provided bombs or weapons to three out of four Muslim defendants, as part of their sting operations. Only 16 percent of non-Muslim defendants acquired their weapons this way. Prior to 9/11, sting operations were primarily conducted in cases of organized crime, white collar crime, and drug-related crime. After the September 11 attacks, there was an increase in sting operations against terrorism suspects, according to the study's sources.
The examples of Joseph Benjamin Thomas and Matthew Aaron Llaneza illustrate the disparity.
Thomas and his associate planned to attack the Mexican consulate in St. Paul, Minnesota, with a truck loaded with flaming barrels of oil and gasoline. The pair planned to create an "Aryan Liberation Movement," targeting minorities and government officials, and Thomas' associate was a former leader of a neo-Nazi organization.
Matthew Aaron Llaneza had expressed interest in joining the Taliban. An undercover FBI agent provided him with a fake car bomb, which Llaneza brought to a bank in San Jose, California.
In both cases, the perpetrators had planned to use explosives to commit ideologically motivated attacks. Thomas, however, was charged with possession of weapons, while Llaneza was charged with the attempted use of a weapon of mass destruction.
Thomas was sentenced to 71 months' incarceration and 60 months supervised release. Llaneza was sentenced to 180 months' incarceration.
As well as being judged differently in court, Muslim perpetrators are judged differently in the media, according to the study. On average, Muslim attacks or plots received more than twice the coverage in the New York Times and Washington Post, the two newspapers studied by the ISPU. In cases of violent attacks that were foiled before they could be carried out, coverage was over seven times greater.
The tone of coverage differed, too. Newspapers were more likely to use words like "terror," "terrorist," and "terrorism," in coverage of Muslim attacks. These words were found in between 54 and 68 percent of articles on these attacks. In articles about non-Muslim attacks, these words were found in just over a quarter of articles.
"At heart, there is a question here of what we as a society deem threatening, and what we as a society are afraid of. What you often find is that when a crime is committed by a member of the dominant, privileged group in any society, it's excused as an aberration, while crimes committed by members of an out-group are pathologized toward that group as a whole," Dalia Mogahed, director of research at ISPU, told The Intercept.
"This implicit bias finds its way into all our institutions, including courtrooms and the media," she said. "Until we address it and stop making excuses, it's not going to change."
If you like this story, share it with a friend!