Buses carrying expelled American diplomats leave US Embassy in Moscow (VIDEO)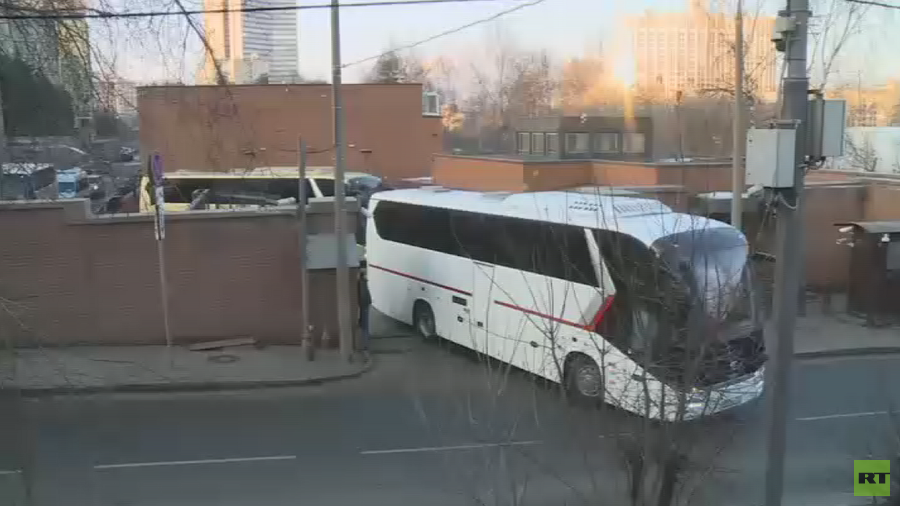 Three busses believed to be carrying the first group of expelled American diplomats have left the US Embassy in Moscow on the deadline day, early Thursday morning.
Busses and minibuses began transporting US foreign service representatives and their families to the airport at 6:30am local time, ahead of Thursday's deadline that Moscow set for 60 American diplomats to leave the country.
READ MORE: US expulsion of Russian diplomats from UN HQ violates all international deals – envoy
Russia announced the expulsion of US diplomats and the closure of the US Consulate in St. Petersburg in late March, as a mirror response to the mass expulsion of Russian diplomats initiated by the UK and US in alleged "retaliation" to the poisoning of Sergei Skripal and his daughter in Britain.
Among the US diplomats being expelled, 58 are from the US Embassy in Moscow, and two officials from the General Consulate in Ekaterinburg. The diplomats will have until April 5 to leave Russia. The US General Consulate in St. Petersburg was shut down on March 31.
Like this story? Share it with a friend!