Moscow expels diplomats of countries that kicked out Russians over Skripal case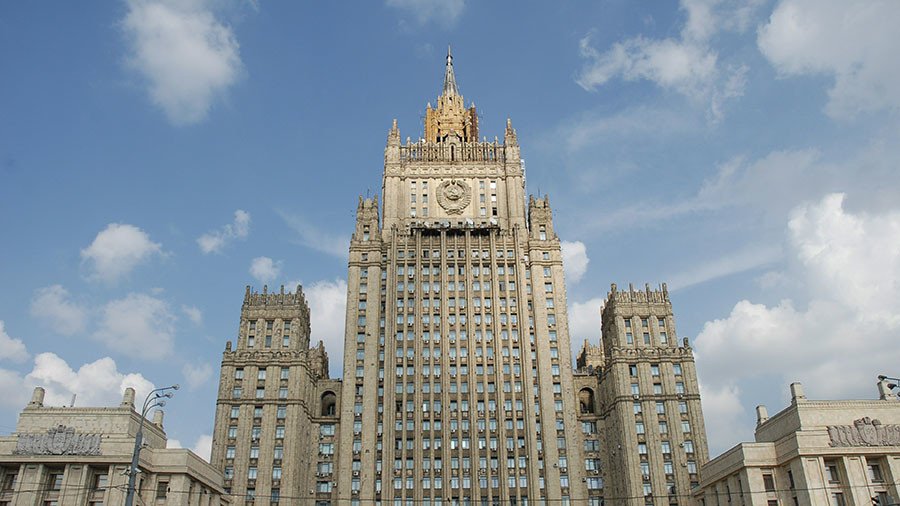 In a tit-for-tat response, the Russian Foreign Ministry has expelled some embassy and consulate staff of countries which earlier ordered Russian diplomats to leave. Moscow is ousting the same number of people other states have.
On Friday, the foreign ministry summoned the heads of diplomatic missions whose countries announced a number of Russian diplomats persona non grata in what they called solidarity with the UK. London is accusing Moscow of poisoning double agent Sergei Skripal and his daughter Yulia earlier in March, even though the investigation is still underway and no evidence against Russia has been produced.
In a tit-for-tat response, Moscow has handed notes of protest to the ambassadors and announced the expulsions of the same number of diplomats – on average, between one to four diplomats. They were given several days to leave the country.
Lithuania, which expelled three Russian diplomats, called the decision "disproportionate" because the country has "fewer diplomats working in Russia than Russia has in Lithuania," the foreign ministry's spokeswoman said.
More than half of the EU member states, as well as the US, Canada, and Australia, followed the UK in expelling Russian diplomats. Russia announced the closure of the US Consulate in St. Petersburg and the expulsion of 60 US diplomats. The UK has been given one month to cut its diplomatic mission in the country to the same number of Russian diplomatic staff in Britain.
Austria is one of the few EU states which has resisted the London-orchestrated campaign against Russia. "Indeed, we want to keep the channels of communication to Russia open," Chancellor Sebastian Kurz and Foreign Minister Karin Kneissl said. Austria has already been dubbed 'the East-West mediator' in the media.
Members of a new Italian government criticized the decision of the lame duck officials to expel two Russian diplomats.
Though UK police say that the investigation in Salisbury would take "several weeks and months," the UK government – particularly Theresa May and Boris Johnson – was quick to point the finger at Russia. They assumed that the military-grade nerve agent A-234 (also known as 'Novichok') of Russian origin was used in the attack.
Russia has firmly dismissed all such allegations and urged London to provide evidence, including samples of the nerve agent. However, it hasn't received anything yet.
Diplomats expelled from Russia:
US: 60
UK: 23
Ukraine: 13
Canada: 4
Poland: 4
Germany: 4
France: 4
Czech Republic: 3
Lithuania: 3
Moldova: 3
Australia: 2
Denmark: 2
Spain: 2
Italy: 2
Netherlands: 2
Latvia: 1
Norway: 1
Romania: 1
Finland: 1
Croatia: 1
Sweden: 1
Estonia: 1 (military attaché)
Ireland: 1
You can share this story on social media: