Meet Sam Hyde: The man behind the 'lone mass shooter' meme
Published time: 4 Apr, 2018 19:24
Edited time: 5 Apr, 2018 13:02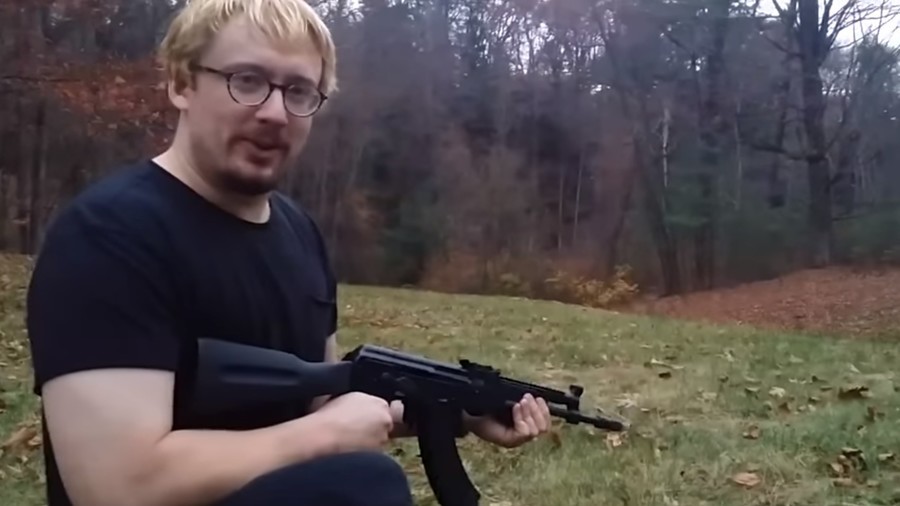 In the wake of recent mass shootings in the US, one man's image begins to circulate on social media time and time again as the alleged source of the latest violence.
Despite the suspect's true identity being revealed repeatedly, Sam Hyde continues to be painted as the 'lone mass shooter,' thanks to a bizarre, long-running trolling exercise dating back to 2015. Despite the number of times Hyde has appeared as the shooter, his image continues to be shared in the aftermath of each new attack, with many unaware that the person whose image they're sharing has already been erroneously linked to countless shootings.
Who is Sam Hyde, the man behind the meme?
Hyde is an American comedian, and is part of the sketch comedy group Million Dollar Extreme (MDE). Hyde is probably best known for his 2013 TEDx talk parody, in which he pretended to be a documentary filmmaker.
The group has conducted a number of trolling pranks including one hoax in which MDE member Jan Rankowski spent two years making videos posing as 'Jace Connors,' a man obsessed with threatening game developer Brianna Wu. MDE had a short-lived series on Adult Swim, a channel that airs on the Cartoon Network. The show's content saw it labelled as 'alt-right.'
Hyde's heavy use of irony and shock tactics make it difficult to confirm his viewpoint, although his since-suspended Twitter account, @Night_Of_Fire contained nods to figures like Mike Cernovich and Alex Jones.


The origins of the Hyde meme
It isn't clear how Hyde became a meme, but its popularity stems from the notorious message board 4Chan, where the character appears to be both hated and admired by members of the community.
An early explanation for Hyde meme comes from an article on the now-defunct white supremacist site, the Daily Stormer, dating from October 2015. The archived article, entitled, 'Sam Hyde and Million Dollar Extreme Troll The Oregon Shooting' refers to Hyde "and his large base of followers on Twitter" and their attempts to "grab the attention of the Main Stream [sic] Media for the purpose of a good laugh" and references Hyde being dubbed a shooter. The article goes on to say MDE's aim is "showing how easily phony Narratives are created by the MSM and accepted by the public." Hyde is featured in a number of Daily Stormer articles, including one urging readers to support him by buying his book which the site says is "basically the first Alt-Right book ever published."
Multiple Mass Shootings
Hyde has been touted as the shooter in a range of attacks dating back as far as 2015, including the Oregon shooting at the Umpqua Community College, which was actually carried out by Chris Harper Mercer.
Virginia Dare, an anti-immigration foundation and website, shared a doctored image which was made to look like a Vice News tweet featuring an image of Hyde which read, "Oregon shooter identified as white supremacist Sam Hyde. Is it time to call them terrorists?"
Virginia Dare shared this image, adding, "When press thought it was a white guy, whites are to blame to #OregonShooting. Now, of course, it's guns' fault."
This suggests the aim of the Hyde meme may be an attempt to trick people into propagating the false narrative by disseminating fake news. Followers of the Virginia Dare account would likely assume Vice did publish a story questioning white supremacy. However, as is often the case with 4Chan, trying to decipher the truth from the trolling can be a fruitless exercise.
The November 2015 mass shooting at the Planned Parenthood clinic in Colorado Springs also saw the Hyde meme widely circulated. The real attacker was Robert Lewis Dear. Hyde also got the blame for the December 2015 San Bernardino shooting, conducted by Syed Rizwan Farook and Tashfeen Malik.
Following the November 2017 church shooting in Sutherland Springs, Texas, the Hyde meme went mainstream when Texas Congressman Vicente Gonzalez told CNN the shooter was Hyde, saying, "apparently his name was released as Sam Hyde, that's the name I was given."
The Hyde meme also extends to international attacks. In July 2016, Hyde was named as the shooter at a shopping mall in Munich. This time, many Germanized his name to make it Sam Hydeburg. The real shooter was David Sonboly. Hyde was also accused of perpetrating the Finsbury Park car ramming attack in London, England, on June 19, 2017. This attack, in fact, was carried out by Darren Osborne.
Despite a number of outlets writing about the deliberate misinformation campaign, and the many Twitter users who are now well aware of the joke, the Hyde meme continues to this day. Hyde's image was circulated in the immediate aftermath of the February 2018 Parkland school shooting in Florida.
Hyde is just one of a number of alleged shooters whose names and images circulate online after each new attack, others include: German Youtuber DragonLord, Youtube commentator Matt Jarbo, and Marcel Fontaine, who has since sued Infowars for defamation after he was named as the Florida shooter. In this instance, his image was shared in a screenshot purportedly showing a tweet from Laguna Beach Antifa urging its members not to share the picture of him "wearing an Antifa shirt."
While some of those who are in on the Hyde joke appear to think it's run its course at this stage, many continue to derive amusement from continuing the meme. Hyde appeared on social media as the Youtube shooter on Tuesday.
In some cases, the aim appears to be to get a media organization to pick up on the claim.
In the chaos of a breaking news situation, users and members of the press scour social media for updates in a developing story. This is when such memes can sow confusion and even endanger the lives of those in the area of the shooting.
RT has reached out to Sam Hyde for more information.
Think your friends would be interested? Share this story!