From 'amazing' to 'disgusting': Netizens divided over New York Mag Trump cover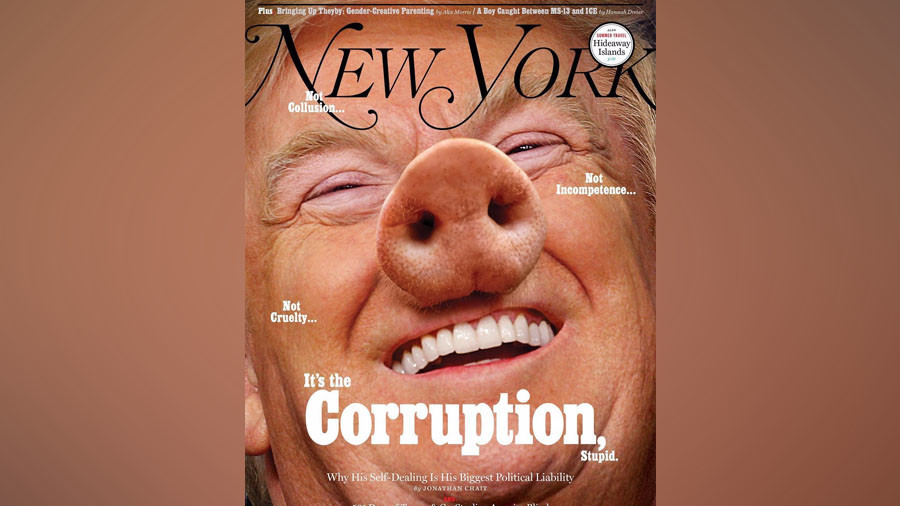 New York Magazine has come in for praise and criticism in equal measure for its controversial cover depicting US President Donald Trump as a pig.
While it could be perceived as a belated April Fool's Day prank, the April 2 issue of the magazine is entirely genuine and features a frighteningly close photo of the 'Donald's' face with a photoshopped snout replacing his nose.
Arguably just as aggressive as the in-your-face cover photo is the headline, which reads: "Not Collusion... Not Incompetence... Not Cruelty... It's the Corruption, Stupid… Why His Self-Dealing is His Biggest Political Liability."
The article by Jonathan Chait, titled "Corruption, Not Russia, Is Trump's Greatest Political Liability," criticizes Trump for letting his greed and nepotism dictate and corrupt all aspects of his presidency, including his political appointees and businesses pre-dating the White House.
While most likely won't read the article itself, the controversial cover appeared to illicit all of the reactions it craved, both positive and negative.
Trump supporter and political commentator Jacob Wohl labeled the cover "disgusting" and called for the magazine to be "put out of business over this." Meanwhile, author Jeffrey Guterman said the cover is in "bad taste" and "respectfully" requested that it not be shared on social media.
READ MORE: Fake news nominee: Fraudster puts Trump forward for Nobel Peace Prize
Others, like Kathy Griffin – the comedian who landed herself on the 'No-Fly' list for posting a photo of herself holding a mask that resembled Trump's decapitated head – seemed pleased with the cover, along with many more netizens who digitally sniggered. Some of the more dramatic types called the illustration an insult to pigs.
The president has yet to publicly respond to the cover but it's safe to assume New York Magazine has been added to his growing list of 'fake-news' media enemies like the Washington Post, CNN, the New York Times, ABC and Time Magazine.
Think your friends would be interested? Share this story!