Trump practices his golf swing as Americans march for gun control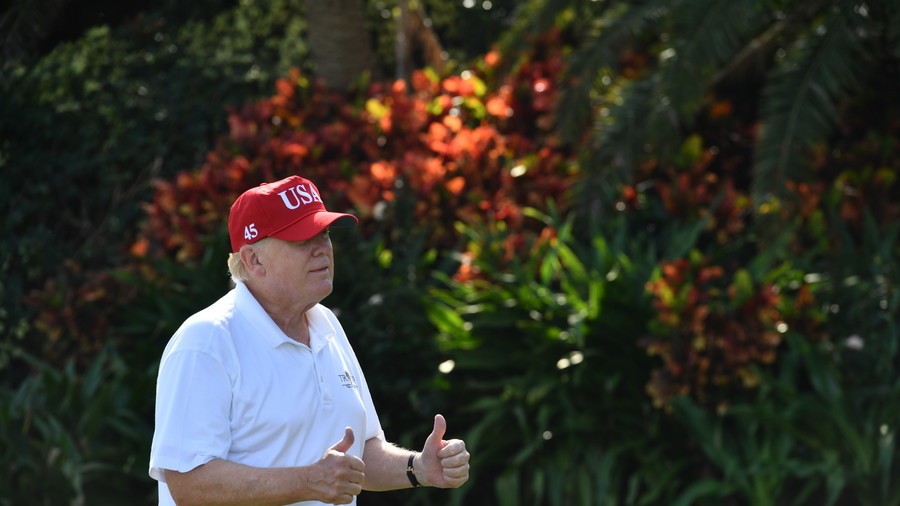 Donald Trump spent his Saturday on the putting green as hundreds of thousands of Americans marched in Washington, DC for stricter gun control. He was also accused of taking a detour to avoid pesky anti-gun protesters in Florida.
As demonstrators arrived in Washington for Saturday's 'March For Our Lives' protest, President Trump quietly slipped out of the capital, choosing to spend the weekend at his private resort in Palm Beach, Florida. On the morning of the protest, Trump reportedly went to his golf club, although the White House did not say whether the president actually played.
READ MORE: Thousands take to the streets in 'March For Our Lives' gun control rallies (PHOTOS, VIDEOS)
But even sunny Florida was not free of inconvenient sign-wavers. On Saturday, dozens of protesters lined the road typically used by Trump's motorcade to ferry him between his Mar-a-Lago estate and the nearby Trump International Golf Club. While returning to Mar-a-Lago from the club later in the afternoon, Trump's golf convoy took a longer route which bypassed the demonstrators. The White House did not respond to a question from the Los Angeles Times about why the longer, alternate route was used.
The president's notorious Twitter page made no mention of the anti-gun demonstrations, which were held in 700 towns and cities across the United States. However, White House Deputy Press Secretary Lindsay Walters issued a statement ahead of the march. "We applaud the many courageous young Americans exercising their First Amendment rights today," the statement read.
Vice President Mike Pence was also silent on the march, although on Saturday he did take time out of his busy day to endorse a film that he saw "a few weeks ago."
Trump's Saturday golf club visit marks the 101st day that he has spent at one of his golf properties since taking office, according to The Hill.
The 'March For Our Lives' rally was organized by survivors of a school shooting in Parkland, Florida in February, which killed 17 students and staff. Current Trump initiatives to combat gun violence include a ban on bump stocks, and blaming violent video games.
March For Our Lives organizers estimate 800,000 protesters attended the gun-control demonstration in Washington, DC on Saturday.
If they're correct, the event would be the largest single-day protest in the history of the nation's capital. The total is bigger than the inaugural Women's March, which brought 500,000 to DC, according to the Washington Post.
Like this story? Share it with a friend!