I would like to testify - Trump on Mueller probe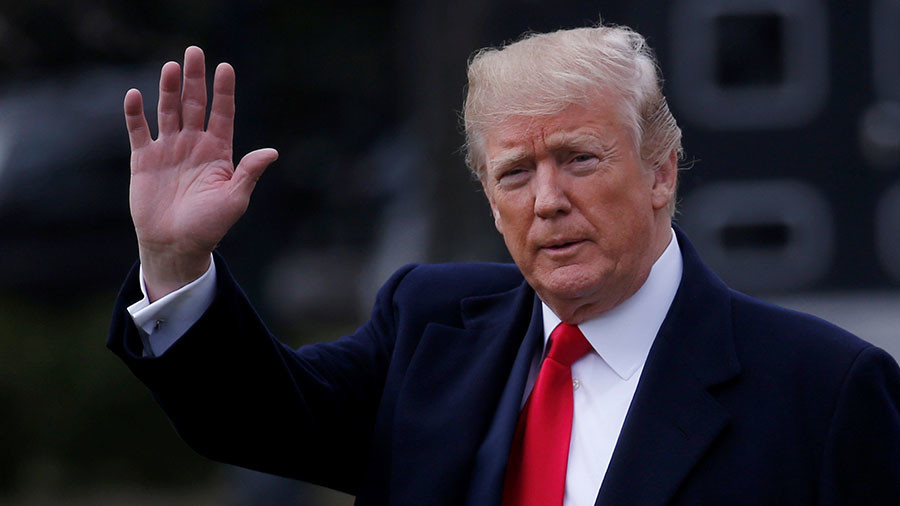 President Donald Trump said that he wants to testify before Robert Mueller as part of his Special Counsel investigation into alleged Russian interference in the 2016 presidential election
"Yes. I would like to," Trump said on Thursday when asked about an interview with Mueller during an event on trade.
The president's pronouncement comes after the sudden resignation of John Dowd, his top lawyer who was leading Trump's handling of the Mueller probe. Dowd had opposed Trump's desire to be interviewed by Mueller.
Trump has been increasingly vocal about his dislike for the Mueller investigation in recent weeks, tweeting that the enquiry is based on "fraudulent activities."
Despite denouncing the investigation as a "witch hunt," Trump has previously said that he would like to testify under oath. "I'm looking forward to it," Trump told the press in January. "I would do it under oath" he reportedly vowed. Trump has consistently denied any collusion with Russia.
The House Intelligence Committee voted on Thursday to formally end its Russia probe, after lawmakers found no evidence of collusion between Trump associates and Russia.
Trump's lawyers and advisers fear that, if interviewed, he could inadvertently perjure himself. This stance puts them at odds with Trump, although Trump has been quick to dismiss reports of conflict.
"The idea of putting Trump in a room with five or six hardened, very clever lawyers, all of whom are trying to trick him and trap him, would be a very, very bad idea," Newt Gingrich, the Republican former Speaker of the House said, during an interview with Fox & Friends in January.
Mueller's team has indicted or received guilty pleas from 19 people and three companies so far. None of the charges against Trump advisers have alleged that they worked with Russia to meddle in the US election, although Michael Flynn and George Papadopoulos pleaded guilty to making false statements to investigators about their relationships with Russians.
Two weeks ago Trump's former campaign manager Paul Manafort pleaded not guilty to criminal charges, including bank fraud and filing false tax returns, none of which relate to Russia or the alleged interference in the US election.
Like this story? Share it with a friend!