Gun vloggers vent fury as YouTube bans firearms videos, switch to PornHub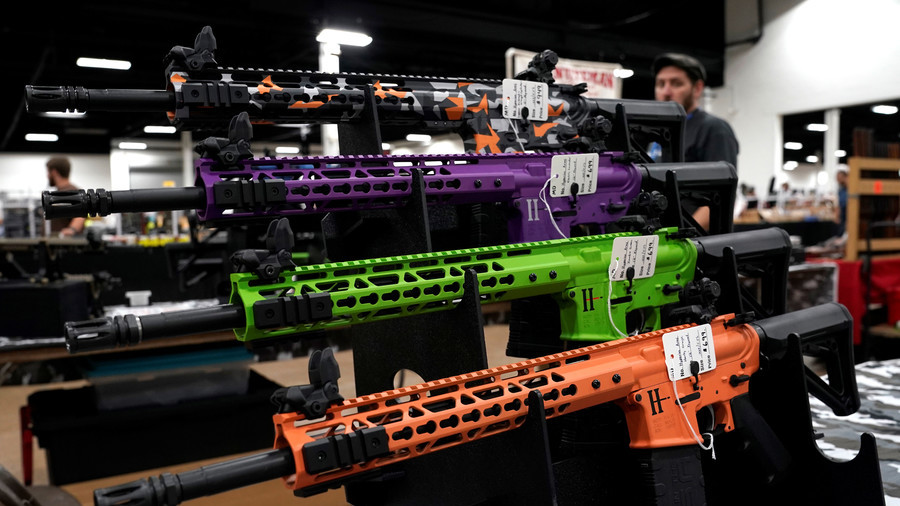 Gun rights activists, bloggers and second amendment advocates are outraged at YouTube's ban on videos and channels which promote websites that sell firearms and accessories. And some believe Pornhub is the solution.
Online gun vlogger InRangeTv has already begun migrating their videos to Pornhub. The group referred to YouTube's rule changes as "vague" and "one-sided."
"PornHub has a history of being a proactive voice in the online community, as well as operating a resilient and robust video streaming platform," InRangeTv wrote in an online statement. RT.com has also contacted PornHub regarding InRange TV's decision to migrate to the platform.
Google, which owns YouTube, introduced the new policy which bans the promotion of guns and upgrades such as bump stocks, as well instructional videos, following a wave of gun control activism in the aftermath of the Parkland high school shooting. There have been multiple shooting incidents at schools across the US in the interim.
"We routinely make updates and adjustments to our enforcement guidelines across all of our policies," a YouTube spokesperson told RT.com. "While we've long prohibited the sale of firearms, we recently notified creators of updates we will be making around content promoting the sale or manufacture of firearms and their accessories."
YouTube videos showing how to convert, manufacture or upgrade firearms are now also prohibited. However, as Sean Davis, co-founder of The Federalist pointed out, videos showing how to maintain firearms could also fall under such a broad description and be removed from the platform.
YouTube has started suspending the accounts of major gun and accessory manufacturers. But don't worry, videos on how to make bombs or meth are still available on @YouTube. https://t.co/sN5ea0ArlT

— Sean Davis (@seanmdav) March 20, 2018
Others argued that the decision would impinge on US citizens' First Amendment rights. YouTube has already been embroiled in a recent and an ongoing scandal involving the demonetization or removal of many channels, often conservative or politically controversial. However, as a private company, YouTube is not bound by the First Amendment with regards to what it allows to be published on its platform, reports The Washington Post.
READ MORE: YouTube says it 'accidentally' shut down conservative channels
"We suspect it will be interpreted to block much more content than the stated goal of firearms and certain accessory sales," the National Shooting Sports Foundation said in a statement. "We see the real potential for the blocking of educational content that serves instructional, skill-building and even safety purposes. Much like Facebook, YouTube now acts as a virtual public square. The exercise of what amounts to censorship, then, can legitimately be viewed as the stifling of commercial free speech."
YouTube's new rules will take effect in April but several users have reportedly been banned already and others have had their videos removed for policy violations. Spike's Tactical had its channel temporarily taken down but was reinstated after it was "mistakenly removed," according to a YouTube spokesperson.
Warning: The following content contains language that some users may find offensive.
"Well, since we've melted some snowflakes on YouTube and got banned, might as well set IG and FB on fire!," Spike's Tactical wrote on Facebook. Videos giving detailed instructions on how to install a bump stock, a device which increases the potential rate of fire of a semi-automatic rifle and which was used by the shooter in the Las Vegas massacre in October, are still visible on YouTube at the time of writing.
The decision was announced just days before Saturday's 'March for Our Lives' rally organized by survivors of the February 14 Parkland school shooting in which 17 people were killed and a further 17 were injured.
A variety of companies, including several major airlines, cut their ties with the National Rifle Association following pressure from gun control advocates in the wake of the shooting. However, companies such as Amazon, Apple and YouTube declined to remove the NRA's channels from their platforms.
Think your friends would be interested? Share this story!