'Peace through strength!' Trump says 'getting along with Russia is a good thing'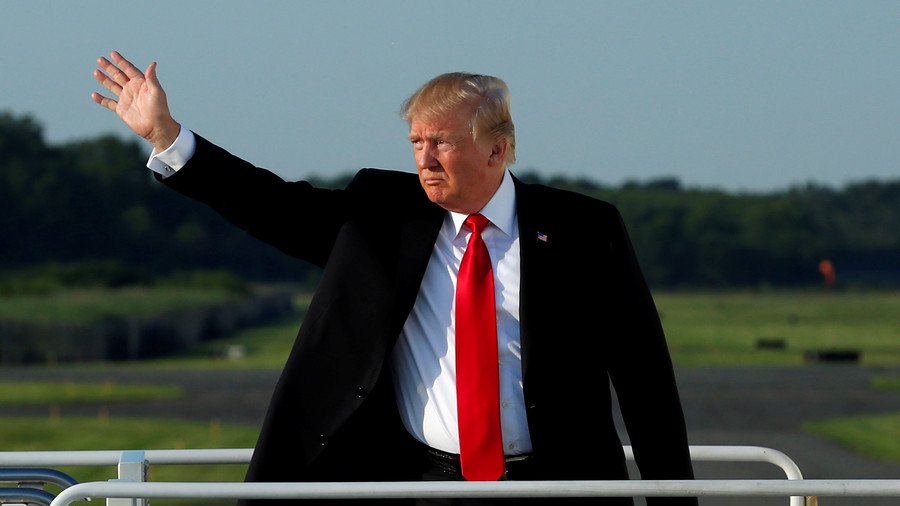 US President Donald Trump has hit back at 'the Fake News Media' over its criticism of him congratulating Russian President Vladimir Putin on his re-election victory, saying "getting along with Russia is a good thing."
READ MORE: Putin & Trump agree that arms race is 'undesirable' - Kremlin
Trump made the comments on Twitter on Wednesday, hitting back at media coverage of his phone call with Putin in the aftermath of the Russian election result. The US leader noted that his predecessor Barack Obama had also called Putin, after the latter won Russia's 2012 presidential race.
In a follow-up tweet, Trump said Russia "can help solve problems," including issues regarding North Korea, Syria and the Islamic State (IS, formerly ISIS/ISIL).
I called President Putin of Russia to congratulate him on his election victory (in past, Obama called him also). The Fake News Media is crazed because they wanted me to excoriate him. They are wrong! Getting along with Russia (and others) is a good thing, not a bad thing.......

— Donald J. Trump (@realDonaldTrump) March 21, 2018
.....They can help solve problems with North Korea, Syria, Ukraine, ISIS, Iran and even the coming Arms Race. Bush tried to get along, but didn't have the "smarts." Obama and Clinton tried, but didn't have the energy or chemistry (remember RESET). PEACE THROUGH STRENGTH!

— Donald J. Trump (@realDonaldTrump) March 21, 2018
Trump's call with Putin sparked an avalanche of criticism in the US media, with many even claiming it was proof of collusion between the Trump administration and the Russian state. In his tweets Wednesday, the US president dismissed the claims, accusing the media of being "crazed" and of wanting him to excoriate Putin.
During Tuesday's phone call the two presidents discussed the importance of coordinated efforts to limit an international arms race and spoke in favor of developing practical interaction in various areas, such as combating international terrorism. A statement from the Kremlin said Putin and Trump focused on overcoming problems in bilateral relations and had also discussed North Korea, Syria and Ukraine.
If you like this story, share it with a friend!
You can share this story on social media: