Trump says he will meet Putin to discuss 'arms race that is getting out of control'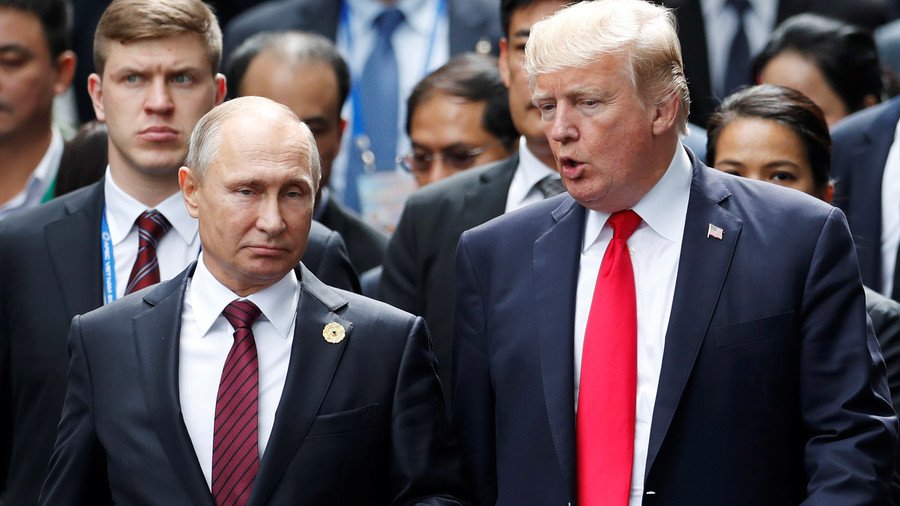 US President Donald Trump said he will meet his Russian counterpart Vladimir Putin in the not too distant future to discuss an arms race that Trump called "out of control." He also congratulated Putin on his election victory.
Trump answered a question about Putin as he was holding a meeting with Saudi Crown Prince Mohammed bin Salman at the White House.
"We will be meeting in the not too distant future to discuss the arms race which is getting out of control," Trump said, expanding on the content of the phone call with Putin on Tuesday.
He reaffirmed his commitment to maintaining America's military spending."We are going to remain stronger than any other nation in the world by far," he said. "We will never allow anyone to have anything close to what we have." At the proposed meeting, they would also discuss Ukraine and North Korea, Trump said.
The US currently spends around $700 billion on its military, more than any other country in the world. This includes $640 billion on weapons and personnel, and $60 billion for wars in Afghanistan, Iraq and Syria, as well as other countries.
The Pentagon published its Nuclear Posture Review in February, in which it named North Korea, China and Russia among its main security threats.
Earlier in March, Putin announced that Russia had developed a number of advanced weapons systems, including a nuclear-powered cruise missile. Other recently unveiled cutting-edge munitions include hypersonic missiles, a nuclear-powered drone submarine and a mysterious laser combat system, the exact purpose of which remains unclear.
Putin strongly denied that this was an attempt to revive an arms race between Russia and the US however, stating in an interview with NBC that the weapons were intended to provide a credible nuclear deterrent. In December 2017, Moscow announced it would scale down military spending.
Russia's President has reaffirmed his commitment after securing a decisive re-election victory on Sunday.
"Of course, we will have to and we will pay the necessary attention to further strengthening the country's defense capabilities," Putin said on Monday, at a meeting with other candidates who had run for president. "No one is going to fuel any arms race. We, on the contrary, are seeking to build constructive relations with all the countries of the world."
Like this story? Share it with a friend!
You can share this story on social media: