When FARA is not far enough: US lawmakers invent new ways to brand RT as propaganda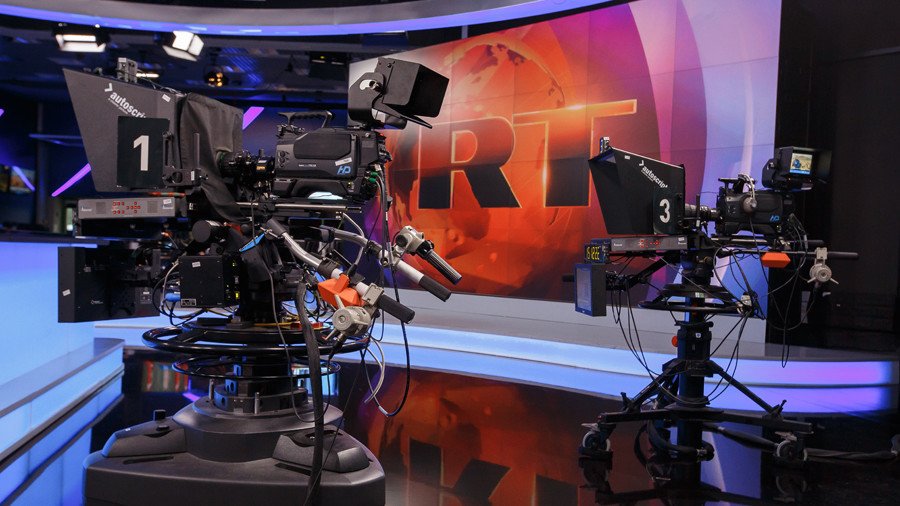 US lawmakers are suggesting new ways to brand RT and Sputnik as "propaganda," believing registration as 'foreign agents' is not enough. RT is already being censored by having its access to Capitol Hill denied.
Concerned that Americans may be watching "foreign propaganda" (or something different than what is offered on the mainstream media menu) Representatives Seth Moulton (D-MA) and Elise Stefanik (R-NY) introduced the Countering Foreign Propaganda Act.
In practice, it would force RT to do even more reporting to the US government than it currently does under the Foreign Agents Registration Act (FARA) and will also force it to broadcast every 30 minutes a message saying it is funded by, and is "under editorial control" of, a foreign government. Apparently, the Federal Communications Commission (FCC) will also be the arbiter of who is under editorial control and who is not, because the BBC and France 24 would not be forced to disclose the origins of their funding, according to Foreign Policy (FP) – presumably, because their messaging is simply accidentally, sort of, in line with that of the British and French governments respectively.
RT's stance on a potential crackdown in the US was summarized by its editor-in-chief, Margarita Simonyan: "When the high from FARA is no longer hard enough, the representatives switch to even harder legislation."
The US branch of RT came into the focus of the American mainstream public after the election of Donald Trump as president. The channel starred in a controversial report by the Office of the Director for National Intelligence, which alleged that RT's coverage of American problems like fracking or the killings of black people by police amounted to infringing on US democratic institutions.
Last year, RT was forced to register under the Foreign Agents Registration Act, a tool initially meant to counter Nazi Germany and mostly used to place the spotlight on foreign lobbyists. RT's response that the forced registration was an act of censorship proved correct when it was stripped of its credentials by Congress.
"These credentials grant media outlets significantly more access to Congress, including access to the press galleries of the House and Senate floors. In other words, revoking RT's congressional press credentials explicitly impeded freedom of the press," Ben Freeman acknowledged in The Hill, from the Center for International Policy, one of Washington DC's myriad think tanks funded by all the usual players.
But fear not, fellow Americans! A new and better tool to "solve the problem of RT," as Freeman puts it, is in the works, courtesy of Representatives Seth Moulton and Elise Stefanik.
"Russia attacked our democracy in 2016, France and Germany's elections in 2017, and is already spreading disinformation ahead of our 2018 elections," Moulton said, explaining the bill in a statement to FP. "We can't be blindsided by another outlet like [RT] spreading propaganda that undermines our democracy."
It remains a mystery how exactly Russia interfered in the elections in France and Germany last year, since none was revealed – to the occasional wonderment of the Western media. The good congressman, however, probably doesn't allow miniscule things like facts to get in the way of a bold punch line.
Moulton and Stefanik are far from being the only US lawmakers trying to score points with their voters by countering "foreign propaganda." Congresswoman Anna G. Eshoo (D-CA) suggests an even more radical method of name-calling, with an amendment to the Communications Act which would require broadcasters to mark all content produced by RT and other FARA-registered producers the way political advertising is marked.
"An informed electorate is essential in a democracy, and providing this information will empower citizens to think critically and decide for themselves who is speaking to them and whether they can trust the information carried over our most foundational media outlets," she said.
Another bill sponsored by Representative Joe Wilson (R-SC) targets the Confucius Institute, which has long been marked as a dangerous instrument of Beijing's soft power by American politicians. He said the legislation was not limited to the Chinese-funded entity and would also apply to others, including Russian ones.
"Students and academics and parents and [school] administrations need to know that there is actually a direct connection to a particular foreign government," he explained to FP. "Then they can judge for themselves."
Russia's usual response to measures targeting Russian entities is mirror action against entities of the foreign government involved. RT's FARA registration resulted in US media outlets working in Russia being forced to register as foreign agents under Russia's counterpart to the US law.
You can share this story on social media: