Sessions could fire ex-FBI McCabe just 4 days before he retires
Published time: 15 Mar, 2018 00:00
Edited time: 6 Aug, 2018 09:21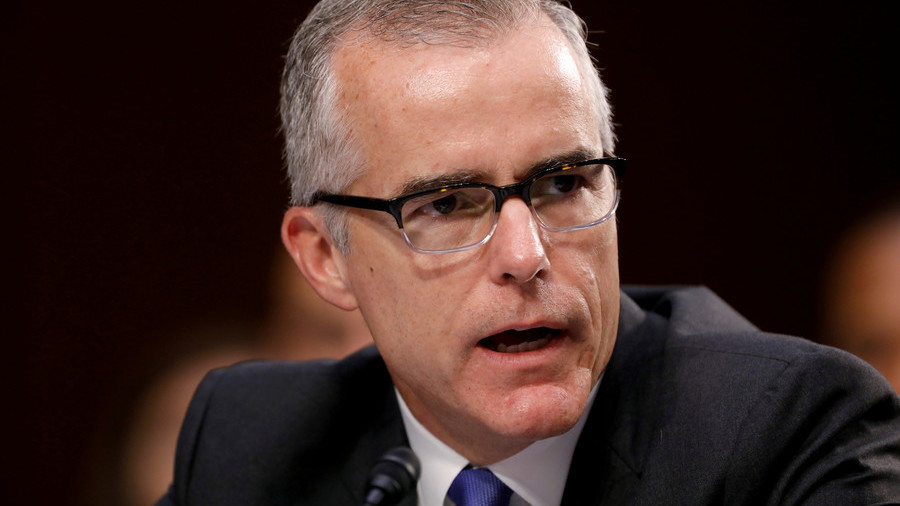 Attorney General Jeff Sessions could fire ex-FBI Deputy Director Andrew McCabe four days before he officially retires, jeopardizing his pension. McCabe retired ahead of a report on the probe into Hillary Clinton's emails.
The FBI's Office of Professional Responsibility made the recommendation to terminate McCabe after a report from the Department of Justice's (DOJ) inspector general determined that McCabe had not been upfront about his role in the FBI's investigation into Hillary Clinton's email server.
Sessions is reviewing the recommendation and can approve or ignore it, according to the New York Times.
McCabe can claim his pension on March 18, after a 21-year career at the FBI. If he is fired by Friday, McCabe may not be entitled to his pension benefits.
The DOJ report, which is due to be released in April, is expected to reveal that McCabe leaked information about Clinton's emails probe to the press and later misled watchdog investigators.
Department of Justice Inspector General Michael Horowitz has been conducting a review of how the FBI and DOJ handled the investigation into Hillary Clinton's use of a private email server while she was serving as the Secretary of State.
Horowitz may determine that McCabe should have recused himself from the investigation altogether, on account of his personal links with the Democratic party. McCabe's wife, Jill, who ran for state office in Virginia in 2015, received $500,000 from the super PAC of Terry McAuliffe, a Clinton ally and former governor of Virginia.
Emails released by the FBI last November showed McCabe referring to the probe into Hillary Clinton's use of a private email server as "special."
In January, McCabe left his post as deputy director to take a 'terminal leave.' He became acting director of the FBI in May 2017, following President Donald Trump's removal of then-FBI Director James Comey.
Trump has been deeply critical of McCabe, accusing him of advancing an anti-Trump agenda.
Like this story? Share it with a friend!