'Flight risk' Manafort facing 'very real possibility' of life in prison – court order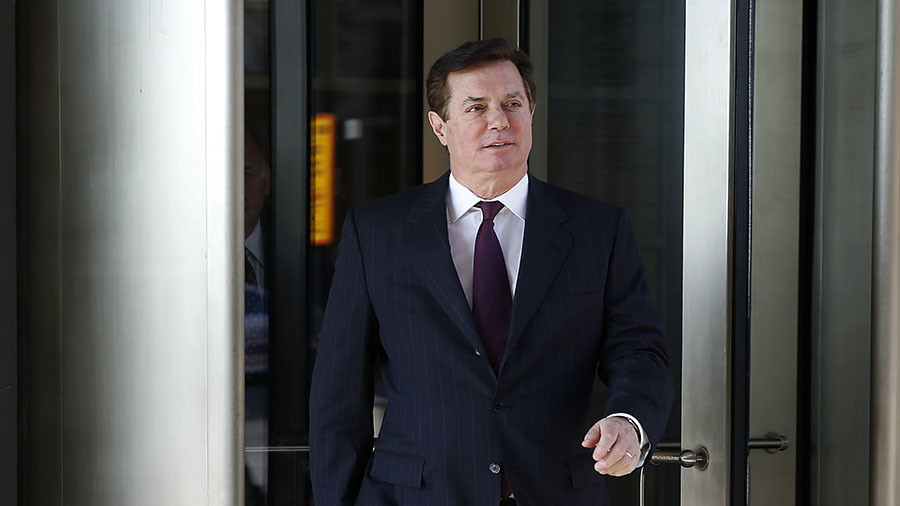 Former Trump campaign chairman Paul Manafort is facing the "very real possibility" of life in prison, according to a federal court order.
In the order, which was made public on Tuesday, US District Judge T.S. Ellis III wrote that Manafort was a potential "flight risk" as he possesses the "financial means and international connections to flee" and remain at large.
Manafort pleaded not guilty last week to a range of criminal charges, including 18 counts of tax evasion and fraud. In October, he was indicted on 12 counts in relation to his Ukraine lobbying and failure to register as a foreign agent.
The former Trump campaign chairman faces a number of other charges as part of US Special Counsel Robert Mueller's investigation into alleged collusion between Donald Trump's team and Russia during the 2016 election. Despite media speculation, however, none of the charges against Manafort actually relates to Russia or alleged collusion between Trump and Moscow.
Given the seriousness of the charges against him, Manafort was warned by Ellis that he "faces the very real possibility of spending the rest of his life in prison."
The Virginia judge ordered a $10 million unsecured bond and house arrest with GPS monitoring. Manafort is now confined to his home with the exception of medical emergencies, court dates, religious worship and meetings with his legal representation. He must wear a second GPS ankle bracelet, ordered by the US District Court in Washington, where he is facing some of the charges. He has also forfeited his passports to federal authorities.
Manafort's former associate Rick Gates, who also worked for the Trump campaign, changed his own plea to guilty last month, after initially pleading not guilty. Charges against Gates include conspiracy to money launder, conspiracy against the United States and failing to register as a foreign agent.
Mueller has dismissed additional charges against Gates, who has deep knowledge of Manafort's political work in Ukraine, indicating that he may be cooperating with the special investigation against his former associate.
Manafort maintains his innocent and in a statement said he "hoped and expected" Gates would have "had the strength to continue the battle to prove our innocence."
"For reasons yet to surface he chose to do otherwise," Manafort wrote.
Manafort's trial dates are set for July 10 in Virginia and September 17 in Washington DC.
Like this story? Share it with a friend!
You can share this story on social media: