Ex-Trump campaign manager Manafort indicted in US on 12 counts over Ukraine lobbying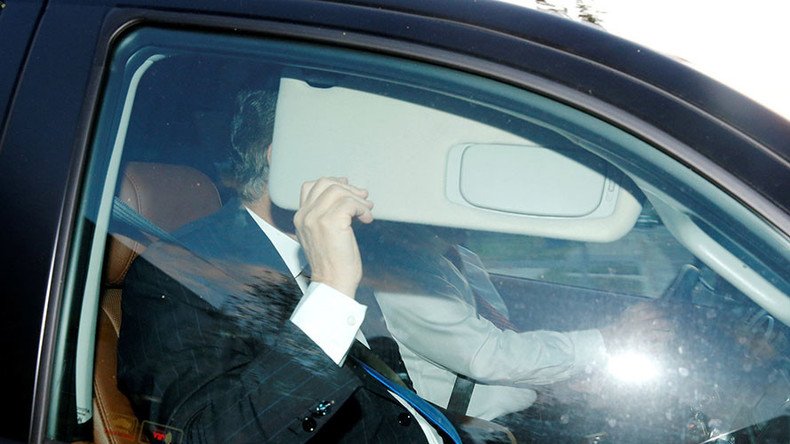 Paul Manafort, the former campaign manager for Donald Trump, has been indicted on a number of counts regarding Ukraine lobbying in the US and related crimes between 2006-2016. Despite some media speculations, there is no Russia connection in the indictment.
A federal grand jury has indicted Manafort and his former business associate Gates on 12 counts related to their lobbying in the US for a Ukrainian political party. Both have pleaded not guilty, and have been placed under house arrest, according to CNN. The government has asked the judge to set Manafort's bail at $10 million, and $5 million for Gates.
"The indictment contains 12 counts: conspiracy against the United States, conspiracy to launder money, unregistered agent of a foreign principal, false and misleading FARA statements, false statements, and seven counts of failure to file reports of foreign bank and financial accounts," the federal special counsel said in a statement.
The duo laundered over $18 million through offshore accounts, the indictment says, using the untaxed proceeds to lead lavish lifestyle. They also failed to register as agents of a foreign principal and made false and misleading statements to hide payments received from Ukraine, it said. The crimes they are being accused of date back to between 2006 and 2016.
The count of conspiracy against the US against Manafort and Gates relates to their alleged obstruction of a DoJ investigation into their other alleged crimes.
The document contains at least one factual error, stating that Yulia Tymoshenko served as president of Ukraine before Viktor Yanukovich, whose interests Manafort and Gates had lobbied. In fact, she has never held the top position in Ukraine and served as prime minister under Viktor Yushchenko, Yanukovich's predecessor.
Manafort's lobbying past came under scrutiny last August, when he worked for the Trump campaign. The NYT reported at the time that he had received some $12.7 million in undisclosed payment from the party of President Yanukovich, who was considered to have Russian backing. The report was apparently based on information from a source involved in the Ukrainian investigation into alleged corruption of the former president.
The publication resulted in Manafort's firing by the Trump campaign, with the US president distancing himself from the lobbyist.
The two individuals are the first indicted amid an investigation by US Justice Department special counsel Robert Mueller into alleged collusion between the Trump campaign and Moscow. However, the charges brought against Manafort and Gates don't seem to have any direct connection to Russia.
Yanukovich was widely considered "pro-Russian" in the US due to his voter base being strongest in the east of Ukraine, which is inhabited predominantly by ethnic Russians. Thus, the association with Manafort was spun in the media as evidence of Trump campaign's collusion with the Russian government. Some critics of the US president hope that he may become a star witness in an eventual impeachment process against Donald Trump.
There were no media reports that Manafort ever worked for the Russian government. The only issue that Trump's opponents tried to build upon was an AP report in March which revealed Manafort had a contract with Russian businessman Oleg Deripaska involving investment projects in Ukraine in the late 2000s.
Some media speculated that Deripaska may have been used by the Russian government to further the Kremlin's foreign policy goals and that Manafort may have been a key figure in those efforts. The businessman denied that his dealings with Manafort had anything to do with politics.
READ MORE: FBI raided Manafort's home for documents he gave Congress
Amid the media speculations the White House denied that Trump was aware of Manafort's work for Deripaska before joining his campaign. Trump's then-Press Secretary Sean Spicer downplayed the role played by Manafort during his five-month collaboration with Trump, saying it was "very limited."
In July, Manafort's home in Alexandria, Virginia, was searched by the FBI in a pre-dawn raid. The bureau's agents seized documents and other materials they deemed relevant to the Mueller investigation, media reports said.
The interest by US law enforcement in Manafot's contacts with foreign clients stretches back years. In 2014, the secret FISA court authorized surveillance of his communications, according to a CNN report. The wiretapping was dropped in 2016 for lack of evidence but renewed later, which allowed the FBI intercept Manafort's communications with Trump.
You can share this story on social media: