Prison guard caught on tape punching handcuffed man in the head (VIDEO)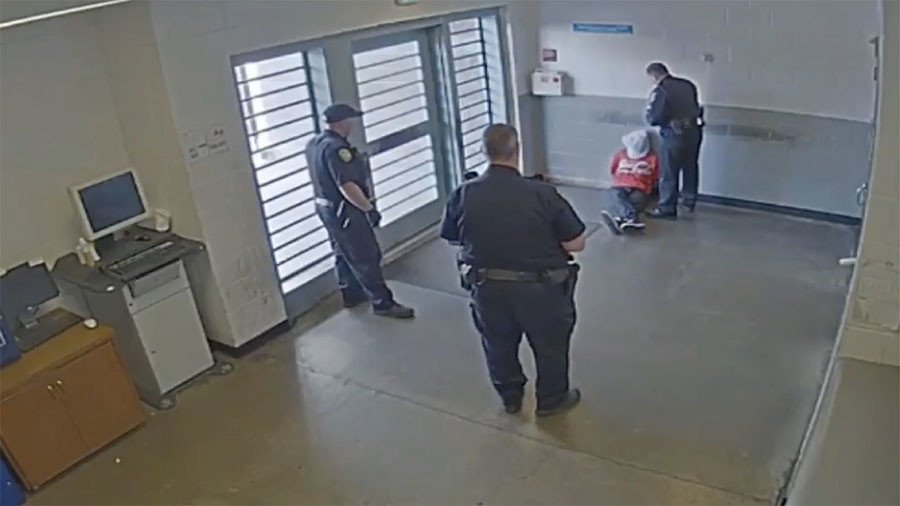 A Californian prison guard is facing charges after allegedly punching a handcuffed and hooded man in the head. The incident occurred in San Joaquin County Jail in August and was captured on video.
The county sheriff's office shared footage of the alleged assault on Tuesday. The correctional officer at the center of case, Matthew Mettler, is due in court on March 26.
The video shows the victim apparently slumped on the ground in the holding area of the jail after he was brought in for intoxication by Manteca Police Officers. He is wearing a "spit bag" on his head because he allegedly attempted to spit on the officers.
"What happens next is one of our correctional officers enters the holding area and then, inexplicably, strikes the man in the head," the sheriff's office said. "The detainee was sitting, legs and arms cuffed, and apparently posing no threat." Mettler was immediately placed on administrative leave after the incident was reported.
The district attorney's office says Mettler has been charged with a misdemeanor count of assault by a public officer. "This behavior is unacceptable and will not be tolerated," District Attorney Tori Verber Salazar said. "Individuals who abuse their power and position will be tried and punished to the full extent of the law."
"As Sheriff, I don't condone the actions as portrayed on this video by our jail staff," said Sheriff Steve Moore. "It is inconsistent with the professionalism of San Joaquin County Correctional Officers, and of this department. The action taken by the DA's office is appropriate and we support their position."
Like this story? Share it with a friend!
You can share this story on social media: