'What the f**k is that thing?' UFO encounter captured in newly-declassified navy footage (VIDEO)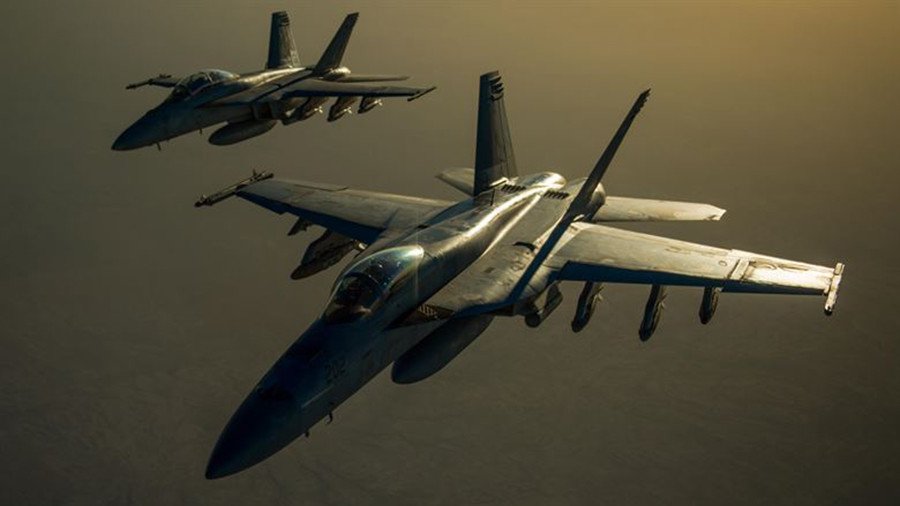 Newly-declassified footage shows the moment US Navy pilots were left incredulous after encountering a mysterious flying object. The UFO was spotted moving at high speed across the ocean on the US east coast.
When confronted with the unidentified object, the bemused pilot is heard shout, "What the f**k is that thing? Oh my gosh, dude."
"Wow, what is that, man?" the other pilot says. "Look at that flying!"
The footage was released on Friday by To the Stars Academy of Arts and Science (TTSA), a private scientific research and media organization. It's headed by Dr. Hal Puthoff, a NASA and US Department of Defense adviser and James Semivan, a former CIA service member.
The video reveals a previously-undisclosed navy encounter that occurred off the east coast in 2015, according to the TTSA. The date, location, and other information was removed by the Department of Defense prior to release.
It was captured by an infrared camera aboard an F/A-18 Super Hornet fighter jet traveling at 25,000ft. The object visible has no wings and no tail, which, according to TSSA, rules out the possibility it was a cruise missile.
The sighting could lead to new demands for the return of a federal investigation unit on suspected extraterrestrial sightings. Pentagon officials admitted in December 2017 that a secretive UFO investigation program, launched at the behest of Harry Reid, the Senate majority leader in 2007, was shut down in 2012.
The latest UFO sighting comes amid recent disclosures by former US Navy personnel of encounters with alleged alien spacecraft. In December 2017, Commander David Fravor, who was a navy pilot for 18 years, told The Washington Post he saw a UFO while on a routine training mission off the Pacific coast in November 2004.
Like this story? Share it with a friend!
You can share this story on social media: