UFO? Russian sub detector? Mystery object removed from Rhode Island beach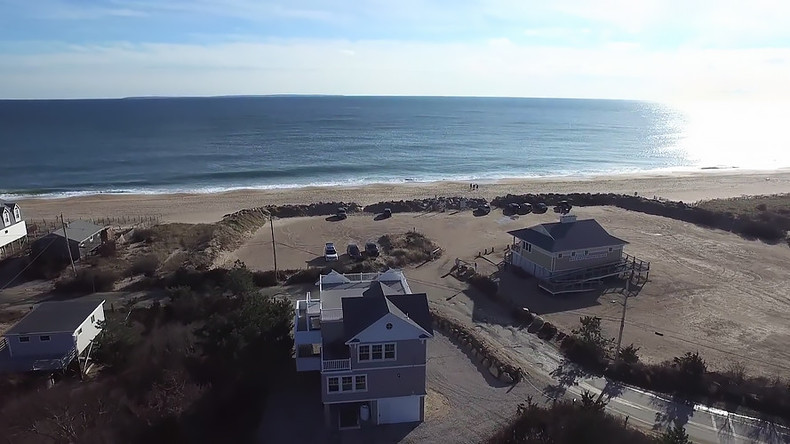 A mysterious metal object has been pulled from the sea off the coast of Rhode Island, prompting a series of wild theories about what it might be.
The circular eight-legged contraption has puzzled Westerly bathers for months, after it was discovered more than a quarter of a mile from an oceanfront mansion owned by pop star Taylor Swift.
It was tugged from the sea by an excavator and dismantled before being moved to an undisclosed location Thursday, WFSB News reported.
President of the East Beach Association, Peter Brockmann, told the Providence Journal he has heard a lot of theories about the object's origins.
"One of my favorites is, it's a plug in the ocean," he said. "Some people think it's a part of an underwater net to detect Russian subs."
READ MORE: 'UFOs' spotted in the sky over Cornwall (VIDEOS)
Gus Kellogg, 12, told the Westerly Sun he thought the six-foot object was something out of this world.
"It's going to put the United States and Westerly on the map if it is a UFO. If not, it's a fun and entertaining day at the beach," he said.
Brockmann, who has sought answers from the US Army Corps of Engineers, the US Navy and the University of Rhode Island's Graduate School of Oceanography, believes in a more down-to-earth theory.
"We do have one theory that makes sense," he said. "A sea mount for an acoustic doppler current profiler."
READ MORE: Why did Princess Diana's car crash? 20yrs after her death, conspiracy theories abound
Whether the object is a UFO, a submarine detector, or a device for measuring the velocity of water currents, it is still a mystery how it got to the Westerly beach.
"Not a clue. Hopefully, the experts in this field will take a look at it, now that we have it out, and be able to identify it," Brockmann told WPRI.
You can share this story on social media: