'Trump unleashed': President enters new battle with MSM, calls NBC anchor 'sleeping son of a b**ch'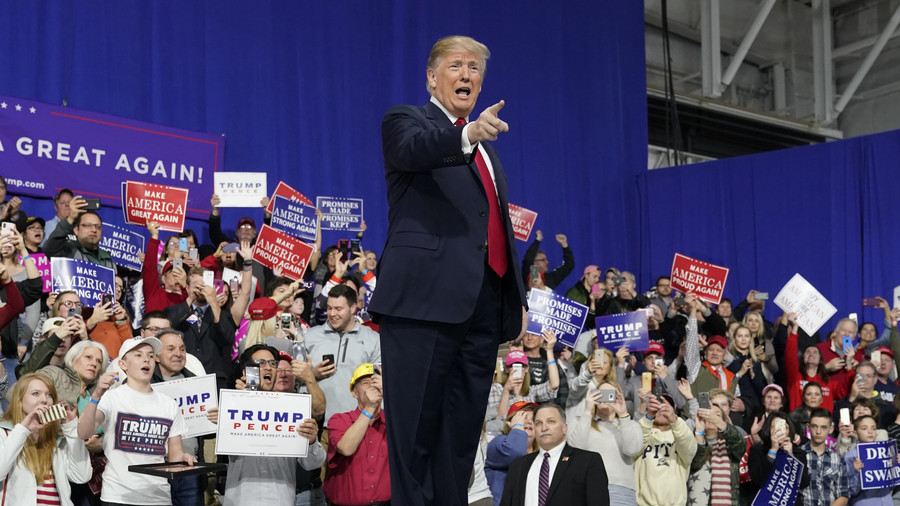 Donald Trump is back campaigning and throwing jabs at MSM. He called the host of NBC's 'Meet the Press' a "sleeping son of a b**ch." Chuck Todd responded by saying that Trump's "vulgarities" create a "challenge for parents."
In true Trump fashion, the US president didn't hold back on his feelings about Todd during a Saturday rally in Pennsylvania, where he was campaigning for state lawmaker Rick Saccone. "It's 1999, I'm on 'Meet the Press,' a show now headed by sleepy eyes Chuck Todd," Trump said. "He's a sleeping son of a b**ch. I'll tell you." The remark was made in reference to Trump's appearance on the show 19 years ago, when he spoke about the need to confront North Korea.
Todd initially responded with a tongue-and-cheek remark on Twitter.
He went on to say that although he tries to raise his children "to respect the office of the presidency and the president," Trump "creates a challenge to all parents when he uses vulgarities like that." His statement was made during a Sunday interview with Washington DC NBC affiliate News 4.
Trump, who will be running for the Oval Office in 2020, also announced the slogan of his campaign during the rally.
"Yesterday's rally was sort of him unleashed, which is why he went after his favorite targets in the media," Todd said, noting the US president is welcome on 'Meet the Press' any Sunday he wants.
Meanwhile, Trump's treasury secretary, Steve Mnuchin, appeared to shrug off the US leader's tendency to give people "funny names."
"You know he likes to put names on people, he did that through the entire presidential election... so these are campaign rally issues... this is something that is at a campaign rally and the president likes making funny names," he told Todd on Sunday during his spot on 'Meet the Press,' when asked about Trump's reference to Rep. Maxine Waters (D-CA) as a "low IQ individual" during the Saturday rally.
Mnuchin concluded his interview by saying "obviously there were a lot of funny moments [at] that rally" – a comment which left Todd entirely unimpressed. "Hilarious," Todd dryly replied.
Meanwhile, Trump's insult to Todd has received a plethora of reactions online, with tweets rolling in from his fiercest critics and most avid supporters.
MSNBC host Joe Scarborough also hit out at Trump, stating that he "pushed the crowd to boo Chuck Todd" while "embracing tyrants and stopping the crowd from booing Kim Jong-un." Trump's supporters at the rally, however, seemed more than happy to oblige in booing Todd and cheering on the president as he spoke negatively about the NBC host.
The editor-in-chief of People's Pundit Daily, Richard Baris, implied that Trump's comments may have been linked to Todd being "not so nice" and "more than a little condescending" to United Steelworks president Leo Gerard during a recent interview.
Former Congressman Joe Walsh also went online to express his opinion on the matter. He said that while it's fair game for Trump to publicly criticize Todd, it's not acceptable for the president to call him a "son of a b**ch."
Trump supporter Jack Bailey appeared to be enjoying the president's comment against Todd. "Live look at Chuck Todd on Meet the Press this morning," he tweeted alongside a photoshopped picture of Todd bundled up in a children's sleeping bag.
Another Trump supporter by the name of Philip Schuyler also took to Twitter to give Todd a telling off. He accused all of Todd's Trump stories of being "negative" and containing a "false accusation or implication." He also said that Todd was not a journalist, but rather "another Democrat...trying to manipulate the people into hating a great POTUS."
Trump supporter Collin Rugg accused the left of "losing their minds" when Trump fights back, despite liberals "spending all day attacking and slandering" the US president. "Democrats only like free speech when it applies to them," he tweeted.
The Saturday rally wasn't the first time that Trump has referred to Todd as being "sleepy." According to the president's Twitter account, he has been using the adjective to refer to the NBC host since at least 2011.