'Keep America Great!' Trump unveils re-election slogan, says was joking about 'lifelong presidency'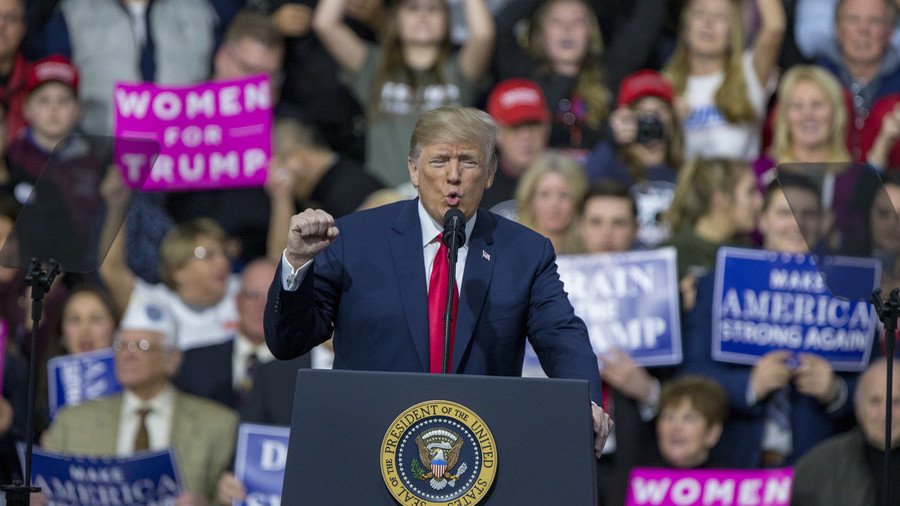 President Donald Trump has trialled his 2020 re-election slogan at a rally in Pennsylvania, vowing to 'Keep America Great'. He reiterated that he was joking about making himself president for life.
"Keep America Great!" will be Trump's slogan at the next election, whether or not he faces Oprah Winfrey at the hustings, he told the steelmaking community on Saturday night. The president said he was "almost positive" rehashing his 2016 slogan "make America great again" (MAGA) was out of the question, as he would already have achieved that after being president for four years.
Trump also laid into the mainstream media, for the second time that day, for highlighting his supposedly light-hearted comments to a fundraising dinner at his Mar-a-Lago resort in Florida a week earlier, to prove he had a "dictatorial attitude."
At the private event in Florida, Trump reportedly praised China's ruling Communist Party for lifting presidential term limits, claiming that it had made his Beijing counterpart XI Jinping "president for life.
"I think it's great. Maybe we'll give that a shot some day," he said, according to CNN sources. "I was joking," Trump insisted in Pennsylvania on Saturday. "Fake news! Fake. Horrible."
Think your friends would be interested? Share this story!
You can share this story on social media: