MSM, Twitter balk at Trump's 'excellent' mental & physical health, 'incredibly good genes'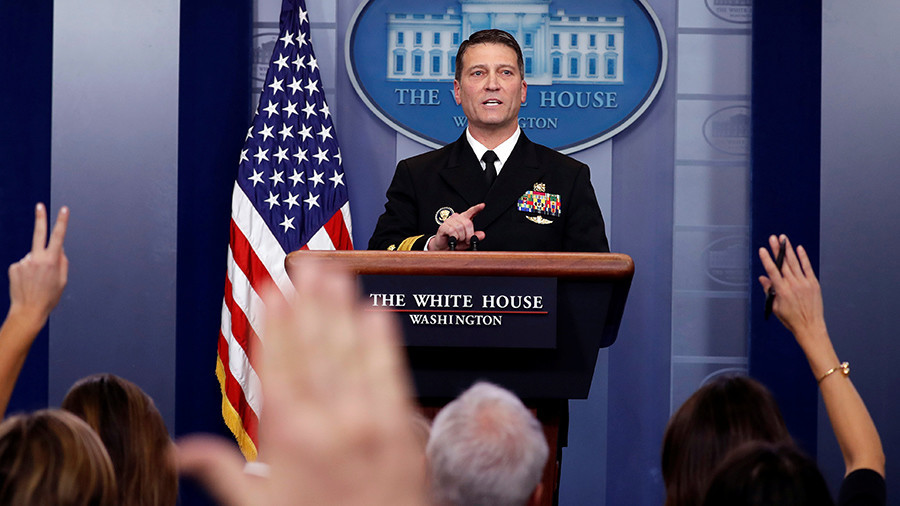 President Donald Trump did "exceedingly well" on a cognitive screening and is perfectly healthy, according to a White House physician. However, much of the media and Twitter did not believe a word of it.
Navy Rear Admiral Doctor Ronny Jackson, Trump's military physician, announced Tuesday that the president's overall health is "excellent" and he is medically fit to serve as commander in chief.
Jackson listed a range of tests the 71-year-old president underwent last week during his first periodic physical exam at Walter Reed National Military Medical Center.
"All clinical data indicates the president is healthy and that he will remain so for the duration of his presidency," he said.
Reporters at the press briefing could not believe the news, with one reporter asking how Trump could be considered healthy, despite his diet and lack of exercise.
"Tell me how a guy that eats McDonald's hamburgers and fried chicken and all those diet cokes and never exercises is in as good of shape as you say he's in," one reporter asked.
"It's called genetics. I don't know, some people have just great genes," Jackson answered.
"You know, I told the president that if he had a healthier diet over the last 20 years, he might live to be 200 years old."
"He has incredibly good genes, and it's just the way God made him," Jackson added.
Many on social media did not believe Jackson's assessment either, pointing to the fact that Trump's family has a history of Alzheimer's.
However, others pointed out that many of Trump's relatives lived well into their 80s and 90s.
Trump has repeatedly credited his genes for his success and intelligence.
While much of Jackson's assessment was positive, he did say that Trump could stand to lose about 10 to 15 pounds through diet and exercise over the next year.
"We talked about diet and exercise a lot. He's more enthusiastic about the diet part than the exercise part, but we're going to do both," Jackson said.
He said Trump currently "doesn't have a dedicated, defined exercise program," but added the president's diet has improved since he moved into the White House.
"He's eating what the chefs are cooking for him now, and they're cooking a much healthier diet for him now," Jackson said. "And we're going to continue to work on that and make that even healthier."
However, many Twitter users even had a hard time believing Jackson when he said that Trump weighs 239 pounds.
Many also pointed out that at Trump's height of 6"3', he is only one pound away from being considered obese, according to a scale used by the Centers for Disease Control and Prevention (CDC).
While others questioned certain parts of Jackson's assessment, some questioned whether the doctor was making the whole thing up as part of a White House propaganda conspiracy.
However, those conspiracy theorists might not know that Jackson was also the White House physician under former President Barack Obama and former President George W Bush.
Many tweeters blamed the press for going after the doctor, and questioned if they would act the same way if a Democrat were president.
Trump also asked Jackson to perform a cognitive exam during his physical. Despite Jackson's determination that the testing was not necessary, the doctor boasted that Trump scored a 30/30 on the Montreal Cognitive Assessment.
"The president is mentally very sharp," Jackson said. "I have no concerns about his cognitive ability."
Many on Twitter pointed out that the test Trump took is a 10-minute screening test for dementia and Alzheimer's disease, which, they said, does not prove anything about Trump's mental health.
Others did believe Jackson's assessment of Trump's mental health, but said that it only proves Trump is "evil."
You can share this story on social media: