Harsh words and a lawsuit: Trump and California at war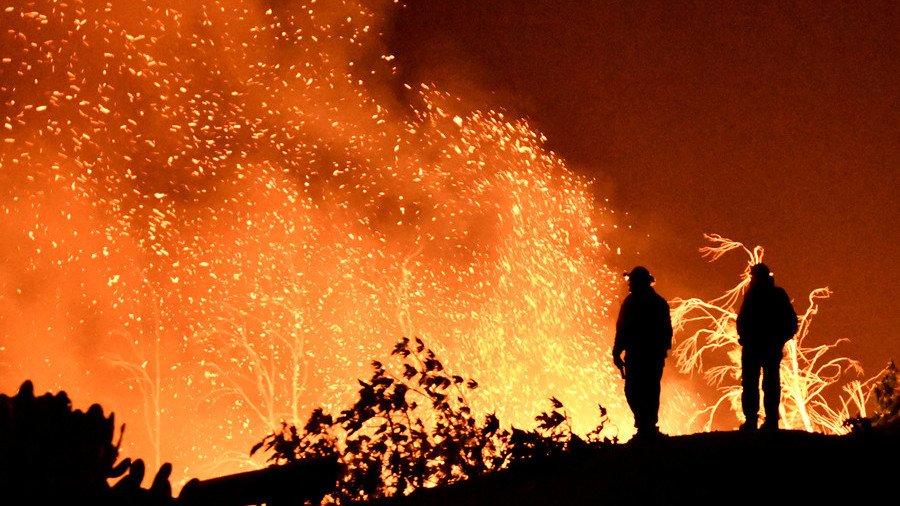 A major conflict between California and Donald Trump, who has just sued the liberal state over immigration issues, is worthy of a Hollywood blockbuster. But it's not the first time the two have butted heads.
Here's a look at some previous clashes between the Golden State and Trump's White House.
Immigration and sanctuary cities
On Tuesday, the Trump administration filed a lawsuit against California for obstructing "federal immigration enforcement efforts." Under the sanctuary policy, California refuses to cooperate with federal authorities to detain illegal immigrants and local officials are not permitted to use state funds to aid federal immigration enforcement. Initially, only certain cities and counties in the state adopted the policy, but California Governor Jerry Brown signed a law last October making the entire state a 'sanctuary.'
Last month Trump announced casually that he was "thinking about" pulling Immigration and Customs Enforcement (ICE) officers out of California and that, he said, it would turn into a "crime nest like you've never seen." "If we ever pulled our ICE out...in two months they'd be begging for us to come back. They would be begging," Trump said.
Angering the White House further, Oakland Mayor Libby Schaaf warned the public of ICE raids, which immigration officials say allowed 800 people to avoid arrest. More than 150 were arrested in the raid, which included people with convictions for violent and sexual crimes, according to ICE.
Recently, a federal judge turned down a request from California to immediately halt the White House's plans to enforce a 1996 law that sought to punish sanctuary jurisdictions.
Student loans
Californians also disliked that the recent initiative by Education Secretary Betsy DeVos on student loans targets their state. A memo, obtained by the Los Angeles Times, says the federal government should be in charge of "streamlining student lending and saving taxpayer dollars."
California officials are convinced DeVos's memo is taking aim at their state in particular as it had passed comprehensive rules for student-loan servicers in an effort to prevent students from being ripped off by companies.
Legal Marijuana
Trump's administration has also taken steps to reverse laws that allow marijuana to be sold legally to any adult in the state of California who wants to buy it.
Just three days after marijuana was legalized in the state, US attorney general Jeff Sessions announced a policy which would allow federal prosecutors to aggressively enforce federal law prohibiting it. That policy could result in prosecutors for the federal government going after legal sellers of marijuana in the state — something which would throw the fledgling industry into disarray.
"There should be no doubt that President Trump has officially declared war on California," state senate leader Kevin de León said at the time.
It's an odd issue for the White House to pick a fight over, given that 29 states have already decided to permit the use of marijuana for medical purposes and nine states have legalized the drug for recreational use.
Offshore drilling
Trump's plans to massively expand offshore drilling on the west coast have seen a huge backlash, not only from California officials, but bipartisan pushback from nearly all coastal governors.
"Not a single drop from your new oil plan will ever make landfall in California," California's Lieutenant Governor Gavin Newsom tweeted to Trump in February.
Got news for you, @realDonaldTrump -- not a single drop from your new oil plan will ever make landfall in CA.We will not be complacent in your deliberate partisan assault on our people and our economy. We will resist your cynical, regressive agenda.https://t.co/1MEF6oo0Sq

— Gavin Newsom (@GavinNewsom) 7 February 2018
The state plans to deny pipeline permits to transfer oil over land from any new drilling sites. Nor will the state allow the use of existing pipelines to transport oil from new offshore leases.
That means that, even if oil companies drill off the shores of California, they will not be permitted to construct the necessary onshore infrastructure without the approval of voters in several coastal districts.
Taxes
California officials also found a creative way to get around a new cap on state and local tax deductions introduced in the Trump administration's tax reform bill.
The proposal would allow Californian taxpayers to donate into a state "excellence fund" and receive "dollar-for-dollar tax credit" in return. They could then deduct the donation from their federal taxes, rendering Trump's cap on deductions irrelevant.
Reminder that Trump has yet to visit California after devastating fires and mudslides

— Clara Jeffery (@ClaraJeffery) 31 January 2018
Californians have also set themselves apart from the administration on a number of other hot-button issues, including minimum wage laws, gender-neutral options birth certificates and a slew of other issues. The list seems to go on and on.
With Trump in the office, the talk about California's independence has intensified, although this initiative has a far way to reach a ballot.
Trump was accused by California state officials in January of being apathetic toward Californians when he took seven days to acknowledge devastating mudslides which killed 21 people in the state. He actually hasn't traveled to the state since taking the office.
Former reality TV star Trump has a bit of a bee in his bonnet about Hollywood, too. When the so-called "anti-Trump" Oscars hosted by Jimmy Kimmel received record low ratings last week, Trump tweeted in delight, suggesting the reason for the low ratings was that Hollywood has no real stars anymore — "except your President," he joked.
The bottom line: The fight between Trump and Golden State doesn't look to be ending any time soon — and neither side will be taking it lying down.
You can share this story on social media: