Trump tweets of 'possible progress' in North Korea talks, but warns of 'false hope'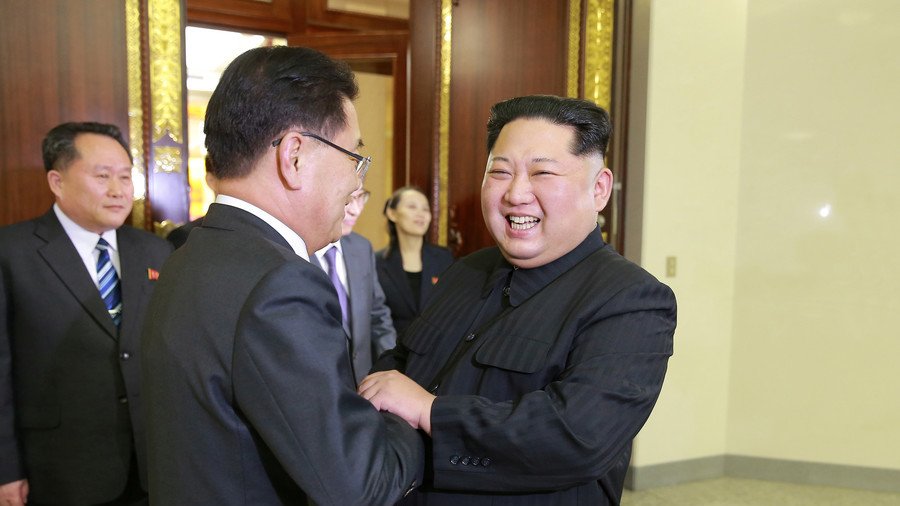 President Donald Trump has said that "possible progress" is being made in talks between North and South Korea, but warned the United States is ready to "go hard" in either direction.
"For the first time in many years, a serious effort is being made by all parties concerned," Trump wrote in a tweet on Tuesday. The US president offered cautious optimism, but suggested that the progress seen may amount to "false hope."
Possible progress being made in talks with North Korea. For the first time in many years, a serious effort is being made by all parties concerned. The World is watching and waiting! May be false hope, but the U.S. is ready to go hard in either direction!

— Donald J. Trump (@realDonaldTrump) 6 March 2018
At a press conference with the Swedish prime minister on Tuesday, Trump was asked if the North Koreans were sincere about the talks and what might have prompted their change of heart.
"Me," he replied, adding after a brief pause, "Nobody got that."
Trump described the sanctions against North Korea as "very strong and very biting," and added that China was helping the US pressure Pyongyang like never before.
"I think they are sincere," he said, followed by the customary caveat, "let's see what happens."
The comments come as North Korea said it would consider giving up its nuclear weapons in exchange for guarantees of its regime's safety.
Speculation regarding the talks has been around for a while, yet none of the sides showed willingness to compromise. Even last Saturday, Pyongyang said that it is willing to have talks with the US, but that it rejects Washington's demands that it must first demonstrate willingness to denuclearize.
Trump's administration has put massive military and economic pressure on Pyongyang in recent months. Washington introduced a new package of sanctions on North Korea in February, with Trump warning that if sanctions do not work, the US will look at a "phase two" of action against Pyongyang. The US was due to begin joint exercises with Seoul in early April, which North Korea promised to counter.
Both Russia and China have repeatedly proposed a so-called "double-freeze" plan which would see the US suspend military exercises with South Korea in exchange for Pyongyang halting its missile and nuclear tests. However, the US rejected the plan. Trump and Kim have spent months engaging in a series of nuclear threats and insults aimed toward each other.
The latest developments suggest that the Trump administration's tactics of piling pressure on North Korea may be working, but some have suggested Pyongyang may simply be buying time and that there is little chance Kim will give up his country's nuclear weapons for a simple guarantee of safety.
There is enough here to start talking *if* the Trump Adm is interested. But DPRK isn't going to give up it's nukes for a lollipop: it means the end of the alliance and the removal of US forces from the peninsula. At least. So an opening, but not euphoria https://t.co/skJSn9pkJq

— Vipin Narang (@NarangVipin) 6 March 2018
Like this story? Share it with a friend!
You can share this story on social media: