'We would like to talk but you have to de-nuke': Trump on N. Korea at Gridiron Dinner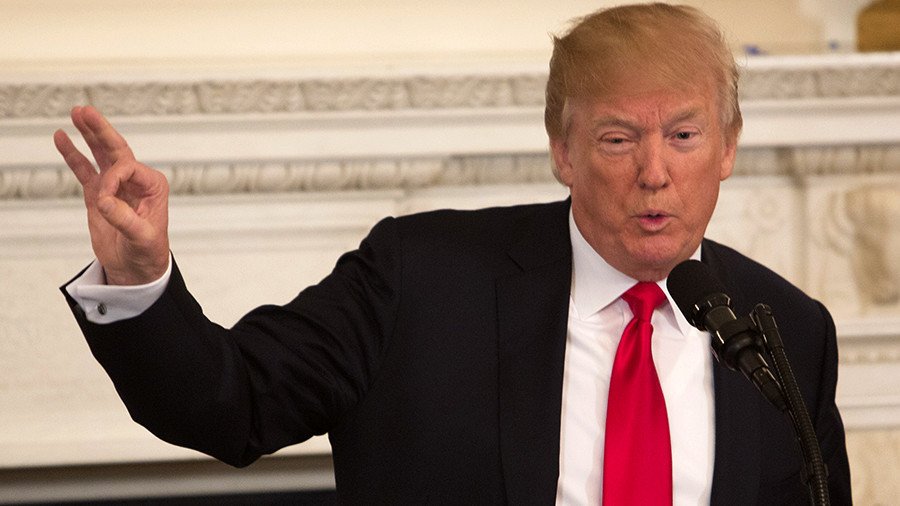 US President Donald Trump appeared at the Gridiron Dinner on Saturday night to engage rivals, both political and journalistic, in some good-natured roasting.
"Nobody does self-deprecating humor better than I do. It's not even close," Trump said, having skipped last year's dinner. "I was very excited to receive this invitation and ruin your evening in person. That's why I accepted." In his address, Trump mocked members of his cabinet and even his own family, while also landing a few jabs on the press.
"We were late tonight because Jared could not get through security," Trump said of his son-in-law, referring to the downgrading of Kushner's security clearances this past week. Making light of the number of departures from his administration and possibly also recent rumors of infidelities, Trump joked that people were wondering who would be next to leave – political advisor Steve Miller or Melania.
"I offered him a ride over and he recused himself. What are you going to do?" Trump said of Attorney General Jeff Sessions, who recused himself from the investigation into alleged Russian interference in the 2016 election. Trump went on to target former chief strategist Steve Bannon, saying: "That guy leaked more than the Titanic."
Trump also referenced ongoing tensions with North Korea, indicating that Pyongyang had 'called': "Now we are talking and they, by the way, called up a couple of days ago. They said that 'We would like to talk.' And I said 'So would we, but you have to de-nuke, you have to de-nuke.'"
"I won't rule out direct talks with Kim Jong-un. I just won't," he added, referring to North Korea's leader. Trump then threw in a joke at his own expense: "As far as the risk of dealing with a madman is concerned, that's his problem, not mine."
Trump didn't spare the media, either, criticizing coverage of the election and his presidency; taking special aim at the New York Times: "I'm a New York icon. You're a New York icon. And the only difference is I still own my buildings."
"I want to thank the press for all you do to support and sustain our democracy," Trump said, concluding the evening. Hours earlier he tweeted that the mainstream US media had "gone crazy."
Roughly 660 journalists, lawmakers, military officers and administration officials attended the event at the Renaissance Washington Hotel, AP reported. Trump was accompanied by First Lady Melania, along with his daughter and White House adviser, Ivanka.
Meanwhile, members of the Washington press corps made fun of both Trump and his 2016 presidential rival Hillary Clinton. One club member reportedly performed a rendition of Carly Simon's 'You're So Vain,' dressed as Clinton, singing: "You walked into my West Wing, my White House or so I thought, your tie strategically dropped below your belt, your hair it was apricot."
The white-tie Gridiron Club and Foundation dinner is an annual event dating back to 1885, when then-President Grover Cleveland refused to attend. Since then, every US president has managed to attend at least one of the events during the course of their term. The club contributes to college scholarship programs and journalistic organizations, with a membership of Washington-based journalists.
Like this story? Share it with a friend!
You can share this story on social media: