Parkland school shooting survivor boasts of snubbing Trump White House invitation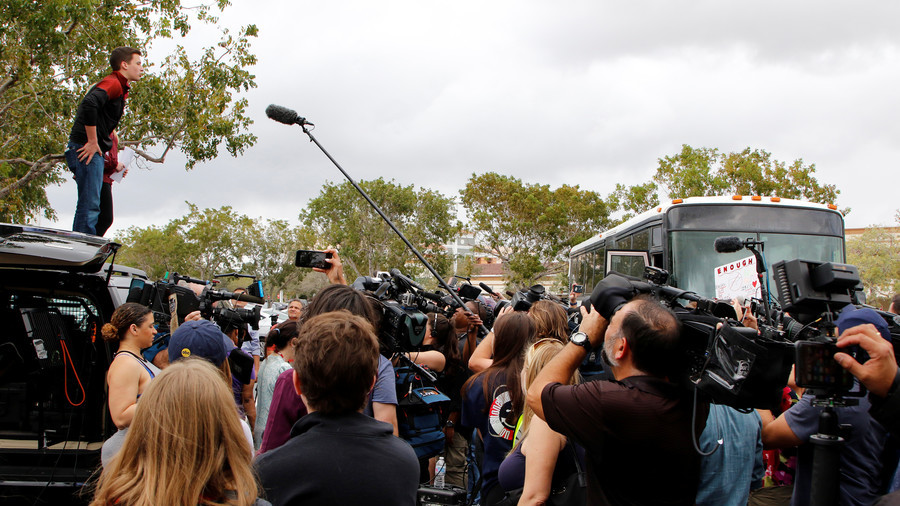 A student who survived the Parkland school shooting has boasted on HBO that he hung up on US President Trump when invited to his White House listening session. A fellow survivor called him out for his counterproductive behavior.
Marjory Stoneman Douglas High School students David Hogg and Cameron Kasky appeared on the Friday night edition of HBO's Real Time with Bill Maher – one of the myriad interviews they have landed in the weeks since 17 of their schoolmates and teachers were killed in mid-February.
"I hung up on the White House the other day," a smiling Hogg said, saying the timing of Trump's invitation was "very offensive considering the fact that there were funerals the next day, there was mourning we still had to do.
"I ended on this message with them. I said, 'We don't need to listen to President Trump. President Trump needs to listen to the screams of the children and the screams of this nation,'" Hogg said.
"We appreciate that you are willing to let us rebuild the world that you f****d up," Kasky added later, after saying he was willing to accept the collective apologies of older generations.
Hogg, Kasky and a number of other students leaped into the media spotlight in the days following the shooting, with their message promoting gun control and a boycott on the National Rifle Association (NRA). The campaign has already cost the NRA a number of financial partnerships as companies were pressured to sever ties with the gun rights lobby.
But fellow student and shooting survivor Kyle Kashuv, who recently said he was creating a mobile phone app to help his classmates get emotional support, slammed Hogg and Kasky for the "inflammatory roles" they played on HBO. He even predicted one might win an Oscar for the performance at Saturday night's awards.
Earlier Kashuv, who unlike the campaigning students, was not verified by Twitter within a week after the Parkland shooting, chided the pair for hanging up on the president, saying that turning down the opportunity for dialogue was "counterproductive." It would be "an honor to discuss with you how we can come together to support our common goal: to make sure kids are safe," he added, addressing Trump.
While campaigning for gun control, Hogg and others have been attacking Republican politicians and Trump, accusing them of taking "blood money" which, they claim, enables gun violence.
If you like this story, share it with a friend!