Mystery illness struck 'widespread brain networks' of US embassy staff in Cuba – study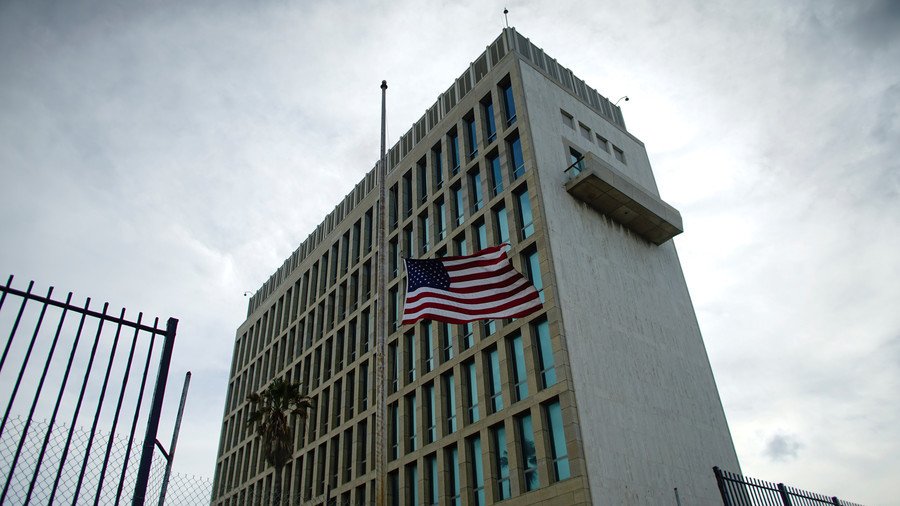 New research has cast doubt on the claim US diplomats in Havana were the victims of a sonic weapon attacks. Some 21 embassy staff in Cuba were affected by a mystery illness in August last year.
Diplomatic staff were reportedly the victims of targeted attacks on their homes and hotel rooms in the Cuban capital. Those taken ill reportedly heard a loud, grinding noise before they were struck down with damage to their hearing, vision, balance and memory. Investigators were said to have suspected a "sonic attack." Now, in a study published in the Journal of the American Medical Association (JAMA), researchers from the University of Pennsylvania say that despite individuals suffering injuries to "widespread brain networks," the cause remains unknown.
READ MORE: 'US closes, Cuba opens': Havana eases entry for Cuban-Americans amid 'sonic attack' row
Among the key points, the study found that the symptoms may not have been from infrasound waves because "sound in the audible range is not known to cause persistent injury to the central nervous system and therefore the described sounds may have been associated with another form of exposure."
While the research does not entirely rule out a viral or chemical source of the symptoms, the report says that both are unlikely as no preceding fever was identified in patients. A chemical attack was deemed especially unlikely. "It is unlikely a chemical agent could produce these neurological manifestations in the absence of other organ involvement, particularly given that some individuals developed symptoms within 24 hours of arriving in Havana," the report reads.
As well as 21 US diplomats and families, three Canadian embassy staffers also got sick. According to a report from the Associated Press, medical testing revealed that the victims developed changes to white matter tracts of their brains, affecting the way in which different parts of the brain communicate with each other.
In September, US Secretary of State Rex Tillerson said the incidents had caused the State Department to reevaluate the historic decision to reopen the US embassy in Cuba in 2015. "We have it under evaluation," Tillerson said in a TV interview at the time. "It's a very serious issue with respect to the harm that certain individuals have suffered. We've brought some of those people home. It's under review."
READ MORE: Journalists covering Russian influence on social media not bothered by US government online psyops
Two Cuban diplomats were expelled from the US following the incidents. Five Republican senators also penned a letter to Tillerson urging the US to close the embassy in Havana and to once again sever all diplomatic ties with Cuba. "Cuba's neglect of its duty to protect our diplomats and their families cannot go unchallenged," said the lawmakers, who were led by Senator Tom Cotton of Arkansas. Cuban-American politician Marco Rubio (R-FL) also signed the letter.
Like this story? Share it with a friend!
You can share this story on social media: