White House comms director Hope Hicks resigning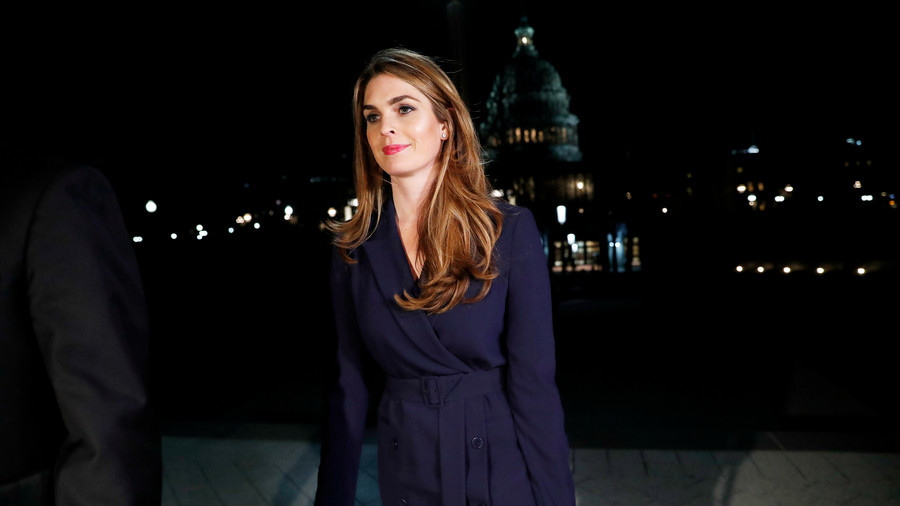 White House communications director Hope Hicks is resigning. This comes a day after she testified before the House Intelligence Committee that she had told "white lies" on the job, according to media citing inside sources.
"There are no words to adequately express my gratitude to President Trump. I wish the president and his administration the very best as he continues to lead our country," Hicks said in a statement released by the White House on Wednesday afternoon.
According to White House press secretary Sarah Huckabee Sanders, Hicks had made plans for her departure prior to her marathon testimony before the House Intelligence Committee on Tuesday. The testimony took place behind closed doors. Hicks reportedly admitted to telling "white lies" to the media on behalf of the Trump campaign and the administration, but said she never lied to investigators in the probe led by special counsel Robert Mueller, according to the New York Times.
"Hope is outstanding and has done great work for the last three years," President Donald Trump said. "I will miss having her by my side but when she approached me about pursuing other opportunities, I totally understood. I am sure we will work together again in the future."
Hicks, 29, was a trusted aide to the Trump family, having initially worked as a public relations specialist for Ivanka Trump's clothing line, before accepting the job of communications chief for Trump's presidential campaign. She became the White House communications director in August, after a shake-up that brought General John Kelly in as chief of staff.
"She has served her country with great distinction. To say that she will be missed, is an understatement," Kelly said in a statement on Wednesday, describing Hicks as "strategic, poised and wise beyond her years."
Hicks was thrust into the spotlight last month when she was spotted in the company of White House staff secretary Rob Porter and tabloids speculated about their relationship. Porter resigned on February 7, following revelations that his security clearance was being held up due to accusations of domestic violence by two ex-wives. The fallout over security clearances reportedly led Kelly to downgrade the top-secret access of Trump's adviser and son-in-law Jared Kushner.
Hicks was the longest-serving communications director in the Trump administration, with almost 200 days on the job. Her predecessor, Anthony Scaramucci, was ousted after only 10 days. Former press secretary Sean Spicer was acting director for two periods during 2017, before the appointment and after the resignation of Mike Dubke.
The White House did not specify Hicks' departure date, except to say it would be "in the next few weeks." There has been no word on who would replace her.