Gut-wrenching footage shows flames shooting from plane engine mid-air (VIDEO)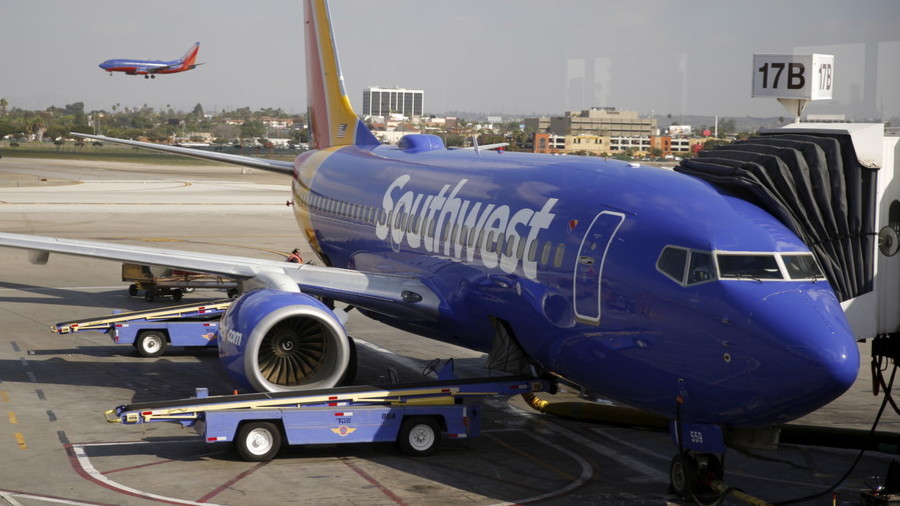 An airliner was forced into an emergency landing shortly after take-off from Salt Lake City after a suspected engine fire. Alarming ground footage has emerged online showing tongues of flame emanating from the fuselage.
READ MORE: Virgin pulls Palestinian salad name from in-flight menu after complaints from Israel supporters
Southwest Airlines confirmed that the Boeing 737, bound for Los Angeles International Airport, was forced to return to Salt Lake City International Airport following a "performance issue" on Monday. The flight lasted around 30 minutes.
"The pilots of flight #WN604 operating today from Salt Lake City International Airport (SLC) to Los Angeles International Airport (LAX) elected to return to SLC after receiving a cockpit indication of a performance issue with one of the aircraft engines," Southwest said in a statement to AirLive.
READ MORE: United Airlines jet makes emergency landing in Honolulu after engine blows out (IMAGES, VIDEO)
An airport spokesperson confirmed to the Salt Lake Tribune that an engine appeared to have caught fire. RT.com has contacted both Southwest Airlines and Salt Lake City International for comment. All 110 passengers and five crew members on board escaped unscathed and were transferred to another plane before continuing on their journey to LA. Emergency crews on the tarmac were not required to take any action.
Like this story? Share it with a friend!
You can share this story on social media: