United Airlines jet makes emergency landing in Honolulu after engine blows out (IMAGES, VIDEO)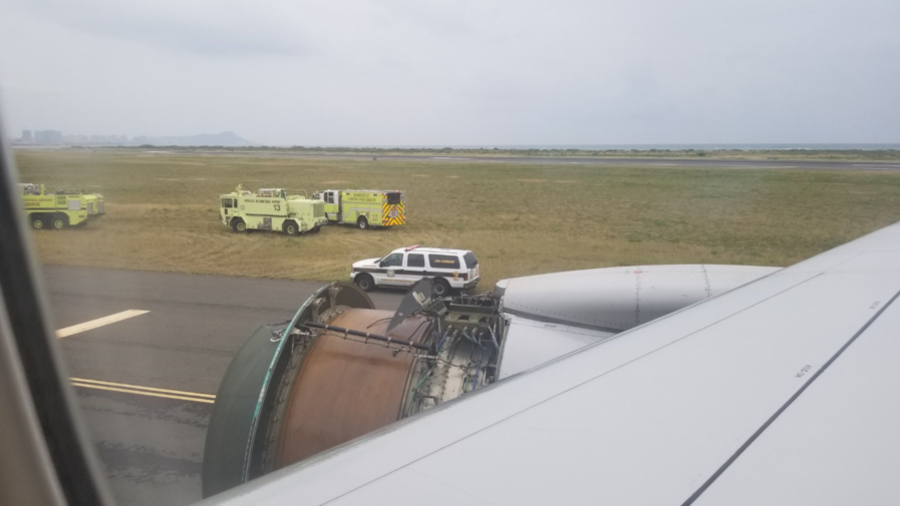 A United Airlines flight was forced to make an emergency landing after its engine failed en route to the Daniel K. Inouye International Airport in Honolulu, Hawaii.
The Boeing 777 aircraft was flying to the Pacific island from the San Francisco International Airport in California when the incident happened. Dramatic footage captured by passenger Erik Haddad shows parts of the engine exposed while the plane continues flying over the ocean.
"United flight 1175 traveling to Honolulu from San Francisco called for an emergency landing due to a mechanical issue. The flight landed safely and all passengers deplaned normally at the gate," the airline said in a statement to KTIV Island News.
The Hawaii Department of Transport (HDT) tweeted that emergency services personnel had been standing by as a precaution after the flight reported a mechanical issue. "The plane is in the hangar. There is no impact on airport operations or runways," the HDT said.
Another passenger, Maria Falaschi, posted pictures to Twitter, summing up her fears with the caption: "Scariest flight of my life."
You can share this story on social media: