'US generals would love it!': Trump vows to hold 'reasonably' cheap parade with 'lots of flyovers'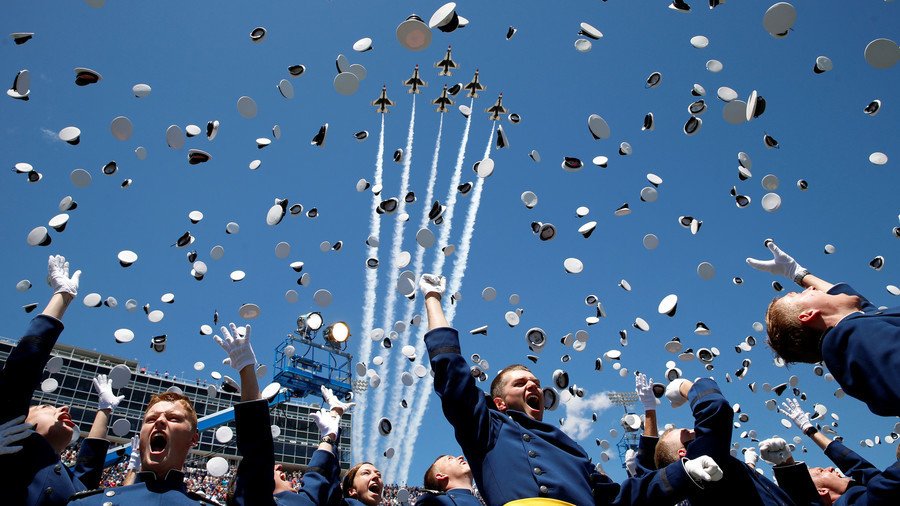 President Trump is relentless in his dream of boosting his country's "spirit" with a grand military parade in Washington DC. He said US generals, and he personally, would love to showcase American might, if the budget allows.
"I'd like to have a parade, a lot of the generals would like to have a parade to celebrate what we're doing," Donald Trump told Fox Business Network. "I think it's great for the country being a cheerleader and the spirit. It's very important."
Despite objections to such a parade by some American politicians (and the city of Washington DC) as an unnecessary waste of government funds, Trump has been calling to have a parade on the streets of the US capital for months, after witnessing American troops march alongside the French soldiers during the Bastille Day military parade in Paris last July.
Trump previously directed the Pentagon to plan a parade. White House budget director Mick Mulvaney said earlier this month that Trump's spectacle could cost anywhere between $10-30 million. The upper bracket could be a concern, the president acknowledged to Fox on Sunday. "We'll see if we can do it at a reasonable cost, and if we can't, we won't do it," Trump said during a phone interview with Fox News host Jeanine Pirro.
"It's just preliminarily being discussed," Trump said. "But we're talking about probably Veterans Day. I like July 4th because July 4th in Washington, DC, would be beautiful. It would be up and down Pennsylvania Avenue."
The US military, with the world's biggest military budget of just under $700 billion, has not held a parade since 1991 when more than 8,000 troops marched down Washington DC to commemorate the end of the Persian Gulf War. The $12 million spectacle, witnessed by hundreds of thousands, saw stealth fighter planes fly overhead while tanks and Patriot missiles rolled down Constitution Avenue.
Some 27 years later, Donald Trump wants to repeat the event, despite having no clear decisive victories to celebrate. Afghanistan, Somalia, Iraq, Libya and Syria are just some of the examples of its ongoing American military involvement around the globe. Yet Trump remains adamant on showcasing US military might on the ground, supported by "a lot of plane flyovers" in the air.
"It would be a great representative parade," the US President said on Saturday. "It would be great for the spirit of the country. We have a great country. And we should be celebrating our country."
Like this story? Share it with a friend!
You can share this story on social media: