Send in the tanks! Trump plans Fourth of July military parade on Pennsylvania Ave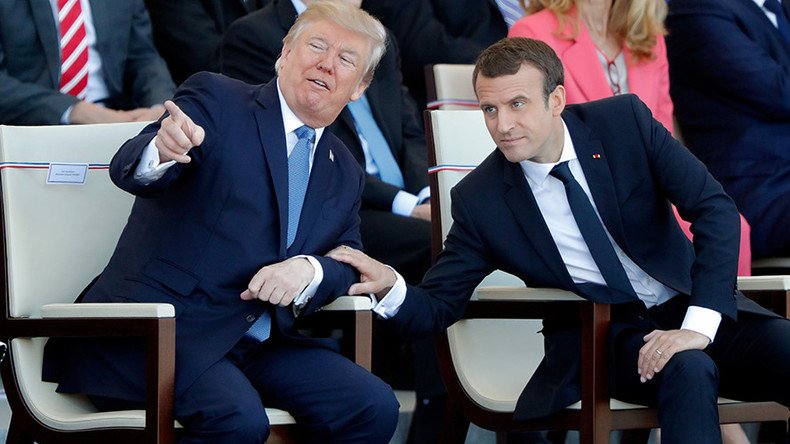 Inspired by the French Bastille Day tradition, US President Donald Trump has said he may begin holding a military parade on Pennsylvania Avenue for America's Independence Day celebrations, beginning next July.
Speaking alongside French President Emmanuel Macron during a joint press conference at the United Nations in New York, Trump said the idea was inspired by France's festivities he witnessed during a state visit to Paris in July.
"It was one of the greatest parades I've ever seen," Trump said Monday. "It was a tremendous thing for France, and for the spirit of France."
"Because of what I witnessed, we might do something like that in Washington on July 4 down Pennsylvania Avenue," he added, prompting guffaws from his French counterpart and the world's press. The US president was insistent, however, saying that he was so impressed by the military might on display in Paris, that the US was going to have a parade of its own.
"I came back and one of my early calls was, 'I think we're going to have to begin looking at that ourselves.' So we're actually thinking about Fourth of July, Pennsylvania Avenue, having a really great parade to show our military strength."
As a clearly bemused Macron looked on, Trump boasted about US military spending, before saying that he was making the arrangements for a parade with White House Chief of Staff General John Kelly and other aides.
"We've spent, this year, $700 billion on the military. I think we're looking forward to doing that. We're speaking to General John Kelly and all the other people involved to see if we can do that this year, but we certainly will be beginning to do that."
Reaction to the idea has been mixed online, with many commentators taking to Twitter to bemoan what they perceive to be a US slide into authoritarianism.
Others accused Trump of being ego-driven.
Some accused Trump of having a childlike infatuation with heavy machinery, while others don't seem to have confidence in the White House's logistical skills.
You can share this story on social media: