Trump orders Pentagon to draw up plans for military parade in Washington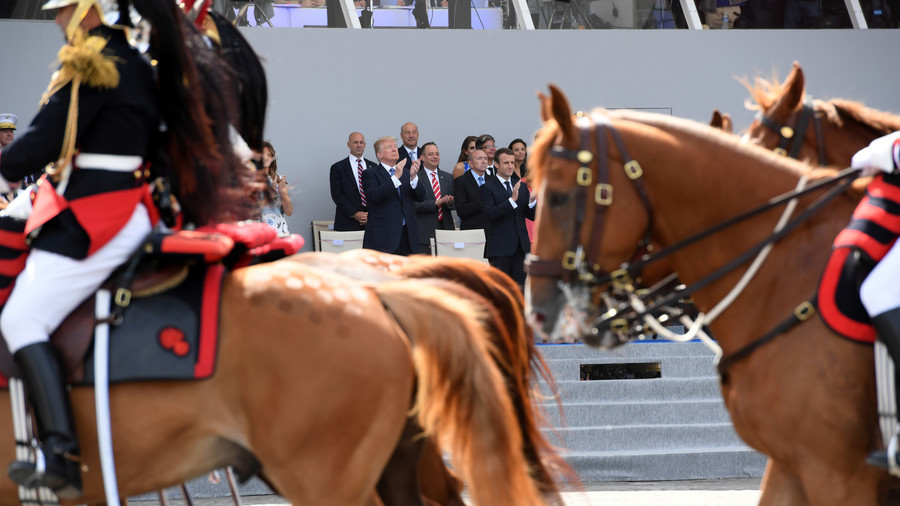 Inspired by French military pomp on Bastille Day, Donald Trump has ordered the Pentagon to begin drawing up plans for a possible military parade of its own in Washington.
The plan for the parade was confirmed by White House Press Secretary Sarah Huckabee Sanders on Tuesday.
"President Trump is incredibly supportive of America's great service members who risk their lives every day to keep our country safe. He has asked the Department of Defense to explore a celebration at which all Americans can show their appreciation," she said.
Pentagon spokesman Charlie Summers also confirmed the proposal and said that "We are aware of the request and are looking at possible dates." He added that the planning process is in its "infancy." Summers said the parade could be scheduled for November 11, Veterans Day.
The plan for the parade was outlined by Trump at a meeting on January 18, the Washington Post reported, citing a military official familiar with the matter. "The marching orders were: I want a parade like the one in France," the official said. "This is being worked at the highest levels of the military."
The Council of the District of Columbia tweeted out a disapproving "Tanks but No Tanks!" on Tuesday after learning of the proposal.
VoteVets, a veterans advocacy group, tweeted a statement from retired Major General Paul Eaton, who said the parade was "just another worrisome example" of Trump's "authoritarian tendencies."
Retired Major General Paul Eaton says @realDonaldTrump's parade idea underscores his authoritarian tendencies, and that our military is not there to be "used and abused" to prop up his image.VoteVets full statement on Trump's orders for a military parade. pic.twitter.com/Am7uSSWZfo

— VoteVets (@votevets) February 7, 2018
Impressed by a Bastille Day military parade, which he witnessed during a state visit to Paris in July, Trump first suggested the idea of showcasing American military muscle back in September.
"It was one of the greatest parades I've ever seen," Trump said during a joint press conference with French President Emmanuel Macron in New York. "Because of what I witnessed, we might do something like that in Washington on July 4 down Pennsylvania Avenue."
The last military parade in Washington was held in June 1991 to mark the end of the Persian Gulf War.
You can share this story on social media: