'You sure he's a conservative?' 9 best ad-libs from Trump's CPAC speech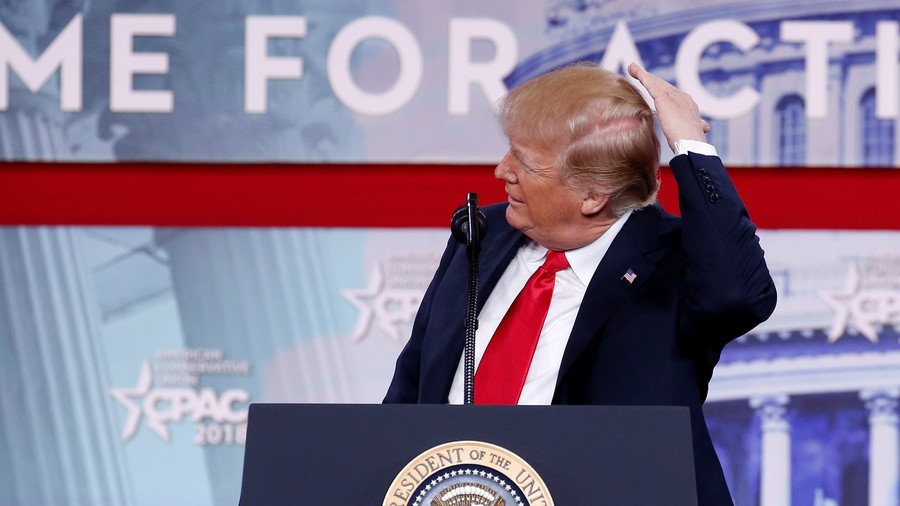 The Conservative Political Action Conference (CPAC) crowd went crazy for President Donald Trump's keynote speech. But it was his casual quips that really brought down the house.
Trump became the first president to appear two years in a row before the whooping crowd of evangelical Christians, NRA members and gung-ho warhawks, at the conference in National Harbor, Maryland. But he peppered his speech with jokes, ad-libs and asides, along with plenty of audience participation to break the tedium of his 90-minute address.
1: His bald spot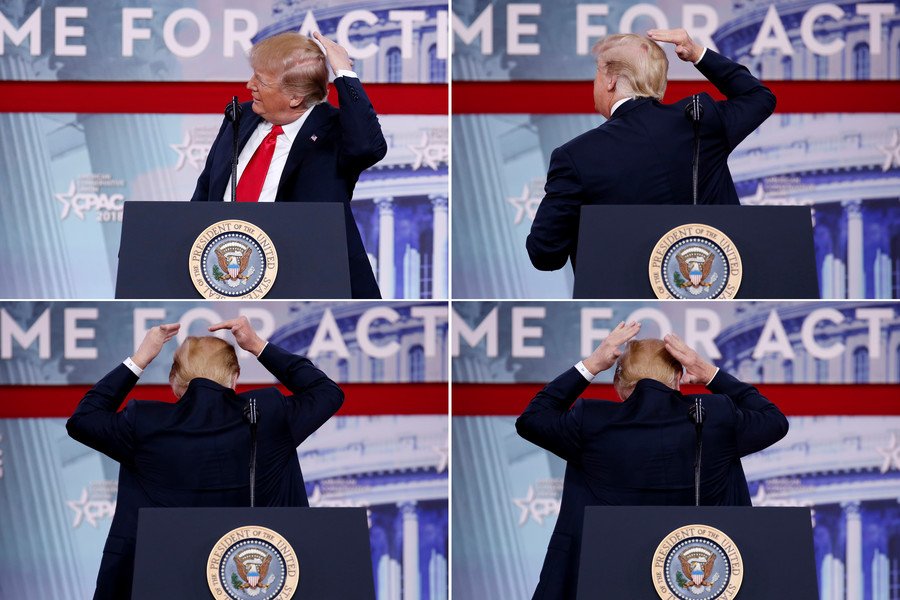 "I try like hell to hide that bald spot folks, I work hard at it," Trump joked. "It doesn't look bad! Hey, we're hanging in there! Together we're hanging in."
2: One-man protest
A lone protester began screaming at Trump early in his speech and was quickly led out by security, to deafening boos and chants of "USA! USA!"
"For the media, the fake news back there, they took very good care of them, they were very gentle, he was very obnoxious," Trump said. "The headline tomorrow: 'Disruptors of CPAC'," he predicted. "One person, and he was very nice, we looked at him and he immediately left."
Citizens for Trump author Jack Posobiec claimed only four people turned up to protest outside CPAC:
3: Even the media will support me!
"Even the Media, the media will absolutely support me sometime prior to the election. All those horrible people back there," predicted Trump, who has repeatedly slammed mainstream news media for wall-to-wall negative coverage of his election campaign and presidency.
"You know why? Because if somebody else won, their ratings would go down, they'd all be outta business, nobody would watch," he said, taking credit for putting food on liberal journalists' tables.
Trump closes by casually ramping up tensions w/North Korea & calling journalists "horrible people.""The media will absolutely support me sometime prior to the election. All those horrible people back there. You know why? B/c if somebody else won, their ratings would go down." pic.twitter.com/HgrMWuYBlr

— Aaron Rupar (@atrupar) February 23, 2018
4: The Snake...
By popular request, Trump recited his version of soul singer Al Wilson's 1968 Northern Soul hit 'The Snake'. Trump used the poem, based on Aesop's fable of the farmer and the snake, on the campaign trail to argue for tighter immigration controls.
Journalist and broadcaster Ben Shapiro tweeted that he'd pay good money for a record of Trump reading William Blake poems:
I would buy an album of Trump reading the poetry of William Blake.

— Ben Shapiro (@benshapiro) February 23, 2018
5: Tax cuts or 2nd Amendment? You decide!
Trump asked the audience, the largest conservative gathering, to choose between the tax cuts he introduced to near-universal conservative praise, or the 2nd Amendment right to bear arms, already more than 200 years old.
"If you only had the choice of one, which would you have?" he asked. The crowd overwhelmingly indicated the second.
6: "LOCK HER UP!"
"We have a very, very crooked media. We had a crooked candidate too," Trump said, in a not-so-sly reference to Hillary Clinton. The crowd knew who he meant, and chanted "LOCK HER UP!"
Trump said the slogan "Never gets old."
"I will say this folks," Trump continued, "everything that's turning out, now it's amazing, that's come full circle, boy have they committed a lot of atrocities when you look. Have they done things that are wrong."
7: Don't worry, you're getting the Wall!
Another heckler, this time a conservative, wanted to know if Trump was still going to build his promised border wall with Mexico to keep out illegal immigrants. Trump replied that every time he heard someone say he wasn't, the wall "just got ten feet taller."
8: One man scuppered Trumpcare (John McCain)
Trump also made a very thinly disguised attack on veteran US Senator John McCain (R-Arizona), now battling brain cancer, over his vote against repealing and replacing Obamacare last year.
"When he was supposed to go this way (thumbs up) and he walked in and he went THIS WAY (thumbs down) and everyone said 'what happened? What was that all about?' Boy oh boy, eh? Who was that? I don't know."
9: "Are you sure he's a conservative?"
"Do you remember, I started running and people say 'Are you sure he's a conservative?'," Trump, a former Democratic party and Reform party member, reminisced about the start of his presidential bid. "I think that we've proved that I'm a conservative!"
You can share this story on social media: