Russian flag protester strikes again, this time at Trump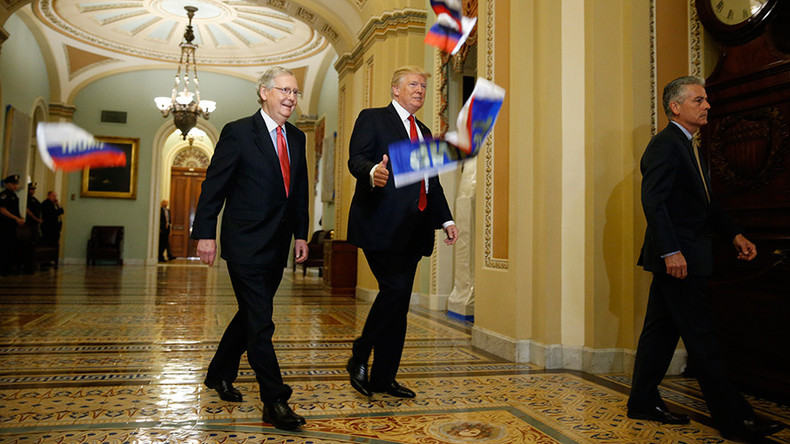 President Donald Trump was heckled by a protester hurling a number of Russian flags in the air as he entered a GOP policy lunch on Capitol Hill. This is the latest in a string of flag-themed stunts by the pro-impeachment group, Americans Take Action.
Activist Ryan Clayton "infiltrated" the press pool and shouted questions at the Trump as he walked with Senate Majority Leader Mitch McConnell (R-Kentucky), according to a video tweet.
"Trump is treason!" Clayton shouted.
"Why is congress talking about tax cuts when you should be talking about treason? This President conspired with agents of the Russian government to steal an election," Clayton yelled as he was being removed by police.
This is not the first time that Americans Take Action – a group which advocates to "impeach Trump to save democracy" – has invoked the Russian flag as a way to make a dig at the president or his constituency. In February, Clayton and another activist distributed Russian flags emblazoned with "TRUMP" to attendees at the Conservative Political Action Conference (CPAC) as the president took to the stage.
"Trump very good leader, very strong leader like President Putin. That's why President Putin pick him to be president here in America, because he build great big wall like in China or Berlin. He put the man in the cage, like the immigrant, and he shoot the journalist who do the fake news like Putin, and that'll make America great again," Clayton told RT at the time, staying "in-character" with a faux Russian accent.
In early April, Americans Take Action unveiled a massive banner calling for Trump's impeachment at the Washington Nationals opening game in the capital. Later that same month, Russian flags were held up for the cameras as Trump addressed a rally of supporters in Harrisburg, Pennsylvania.
In July, Clayton confronted Trump's adviser and son-in-law Jared Kushner, after he met with members of the Senate Intelligence Committee staffers to help answer their questions regarding his meetings with Russian officials during the election campaign.
Clayton, again disguising himself as a member of the press, asked for Kushner to sign his Russian flag, saying he had "conspired with the Russians to steal an American election. That should be unacceptable."
Kushner had roundly denied the accusation, saying "I did not collude, nor know of anyone else in the campaign who colluded, with any foreign government."