West Virginia teachers occupy streets in statewide strike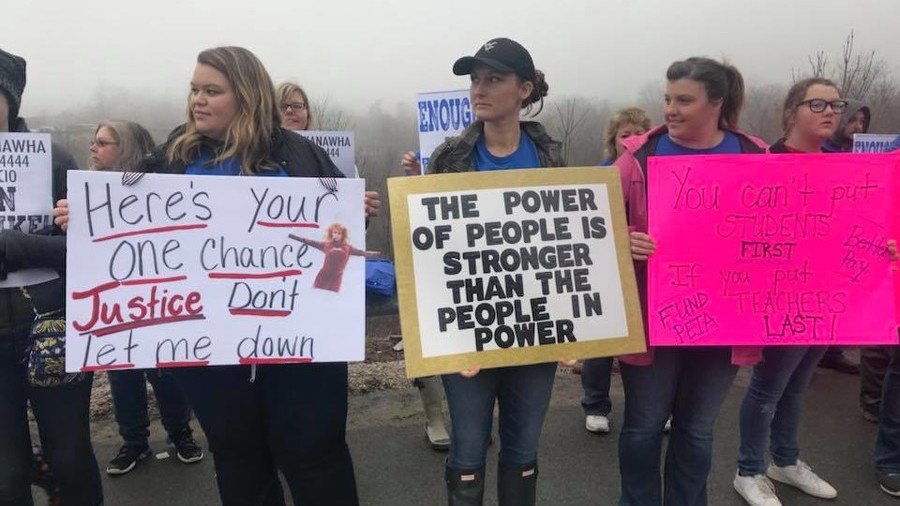 Every single public school in West Virginia is closed. Teachers across the state staged a walkout in protest against one of the lowest salaries in the country and the rising cost of healthcare.
It is the first statewide teachers' strike in almost 30 years in West Virginia. Over 270,000 students have been affected, according to the latest enrolment figures from the state Education Department.
"I never dreamed 19 years ago when I started teaching that I would have to work a second job to provide for my kids. I knew teaching wouldn't make [me] billions, but I thought it would be enough," second grade teacher Rebecca Diamond told the Huffington Post.
On Thursday, teachers and their supporters demonstrated outside the state Capitol and in other cities.
A bill signed by Governor Jim Justice on Wednesday night, before the strike took place, offered teachers a 2 percent raise this year and a 1 percent increase in each of the next two years. The state's two main teachers unions, however, say the proposal is inadequate.
Teachers in West Virginia have not had a pay rise in four years.
The average starting salary for a teacher in West Virginia is $32,435 per year, while the average teacher's salary is $44,701, according to the West Virginia Education Association.
"Teacher vacancies are increasing. There are classrooms with no teacher of record. ... We've actually been educating teachers at our universities in West Virginia and they're not staying here." Christine Campbell, president of the American Federation of Teachers-West Virginia told the Huffington Post.
Teachers in surrounding states make anywhere from $5,000 to $20,000 more than in West Virginia, according to Campbell. A further point of dispute is the rising health-care costs at the state Public Employees Insurance Agency (PEIA).
"The problem is it's only a one year fix," Dale Lee, president of the West Virginia Education Association, told the Wall Street Journal. "It doesn't address the real issue, which is continued cost increases and continuing to fund it on the backs of the employees."
State authorities have condemned the walkouts.
"Work stoppages by public employees are not lawful in West Virginia and will have a negative impact on student instruction and classroom time," West Virginia Schools Superintendent Steve Paine said in a statement on Tuesday.
There are further walkouts scheduled for Friday.
Like this story? Share it with a friend!
You can share this story on social media: