NJ teacher blasted for telling hispanic students to 'speak American' (VIDEO)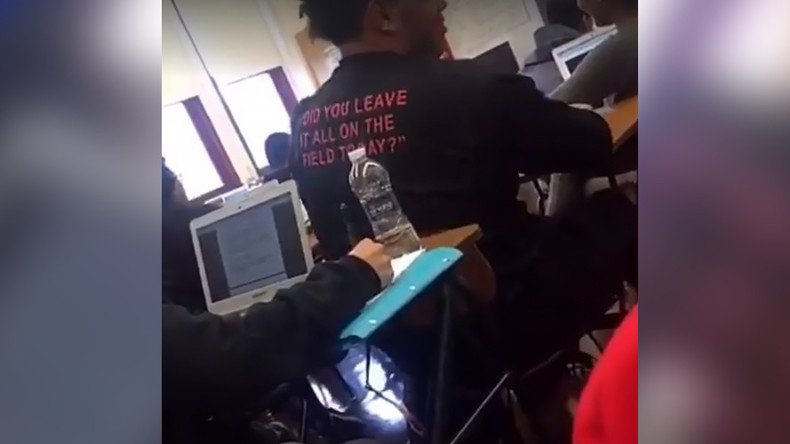 A video taken inside a New Jersey classroom that purportedly shows a teacher berating her students for speaking Spanish has gone viral.
"Men and women are fighting. They are not fighting for your right to speak Spanish. They are fighting for your right to speak American," the teacher can be heard saying in the 26-second clip allegedly taken at New Jersey's Cliffside Park High School this week.
Principal Lawrence Pinto held a meeting on Friday to discuss the incident, The Daily Voice reports. RT.com has contacted Pinto for comment on the incident. Cliffside Park is home to a diverse community with a high number of Spanish-speakers.
"You're being racist," one student says as he leaves the classroom in disgust. "I know how to speak English."
It's understood that the woman in the video is an English teacher at the school but was substituting for a colleague's math class.
"This school is not a negative school," said Carmen Benitez, a senior at the school, as cited by WPIX. "You know there are a lot of different cultures in our school. There's a lot of teachers who respect us."
"It's a shame to see what this world has come down to. According to USconstitution.net, the United States has NO official language. As an alumna of this high school, it's completely disgusting to see that this type of behavior is tolerated and accepted," Nicole Franchesca, a former student at the school, wrote in a Facebook post.
"This is a teacher in Cliffside Park High School; she isn't allowing the student to express his constitutional right. Going to this school, and now my sister does, I really do not want a teacher like this," Maria Reyes, a 2014 graduate of Cliffside Park High School, wrote, as cited by NorthJersey.com, a USA Today affiliate.
You can share this story on social media: