Hey, teacher, leave those kids (& Trump) alone! Educators face penalties for incendiary remarks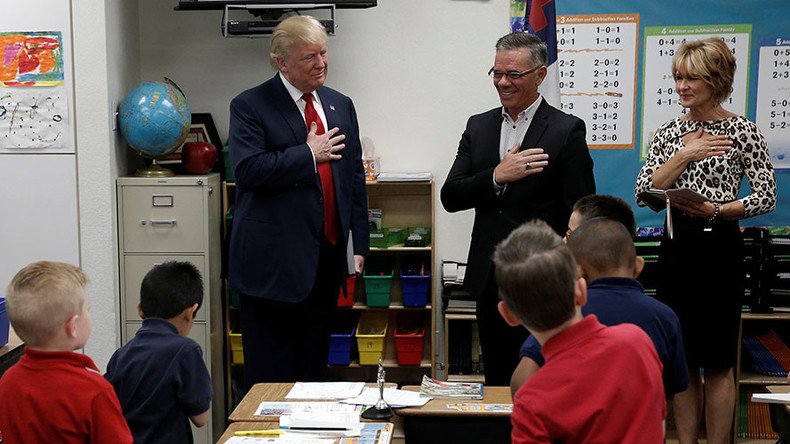 Teachers across the US are getting in trouble for bringing their views on President-elect Donald Trump into the classroom. Whether it's threatening students with deportation or comparing Trump to Hitler, the politicizing of education is seen as a no-no.
While public school teachers are afforded the right to free speech under the First Amendment, that freedom does not extend to what they say in the classroom because public school students are considered "a captive audience," according to the American Civil Liberties Union.
"What you say or communicate inside the classroom is considered speech on behalf of the school district and therefore will not be entitled to much protection," the ACLU notes. "Certain types of speech outside the school might also not be protected if the school can show that your speech created a substantial adverse impact on school functioning."
It's inside the classroom that teachers around the country have been getting in trouble.
A teacher in Wesley Chapel, Florida is on administrative leave for reportedly threatening students with deportation. Wesley Chapel High School teacher and coach John Sousa approached several African-American students in the hallway to ask them what they were up to. He then told them: "Don't make me call Donald Trump to get you sent back to Africa," the father of one of the students, Donnie Jones Jr., wrote on Facebook.
Jones complained to the school, which quickly condemned the remark, which Jones says Sousa admitted to. The teacher met with the school's director of employee relations on Friday to discuss the matter, school officials told WPTV. Sousa apologized and called it an "off the wall comment that wasn't meant to be racist."
In Tuscaloosa, Alabama, a math teacher is on paid administrative leave for using an image of President-elect Donald Trump to criticize President Barack Obama. Northridge High School math teacher Scott Johnson projected an image of Trump in the style of the famous 'Hope' poster made famous during Obama's first campaign. Instead of saying "hope," though, the image used Trump's famous tagline from 'The Apprentice': "Obama, you're fired!"
One of the students said that Johnson told them: "I scaled your tests 10 points because so many of you did so poorly. I could have just taken points from the ones who did well. Those of you who like Obama and Hillary, that's what they would do. It's gonna take a lot of work in the next four years to undo what was done in the last eight years," according to a Facebook post by Northridge alumnus Alex Smith.
A physical education teacher at a middle school in Los Angeles, California was fired after he was recorded making threats against minority students, KCBS reported. A 6th grader at Bret Harte Preparatory Middle School recorded the long-term substitute telling minority students that their parents would be deported.
"If you were born here, then your parents gotta go and they gonna leave you behind. You'll be in foster care," the PE teacher said on the recording. When a student asked, "How are they going to find me," the teacher responded: "I got your phone numbers, your address, your mama's address, your daddy's address. It's all in the system, sweetie. And when they come and there's an illegal, they gotta go!"
Los Angeles is one of a handful of so-called sanctuary cities that have refused to enforce deportation laws, and have stated that they will continue that under the Trump administration.
In Owasso, Oklahoma, a principal is looking into an audio recording of a male teacher ranting against Americans who voted for Trump, calling them "uninformed, ignorant, racist pieces of sh*t."
"Teachers are looked to as role models, and we expect our teachers to be role models as well," Owasso High School Principal Matt Roberts told the Owasso Reporter. "Tensions are very high at this time with the national and state elections and the state questions. There's a right way and a wrong way to voice your opinion, and the classroom setting is not the proper forum for that."
A Holocaust expert who teaches history was suspended from a high school for pointing out similarities between Trump and Adolf Hitler during a lesson in Mountain View, California. Frank Navarro was placed on paid leave after a parent complained about the lesson.
"This parent said that I had said Donald Trump was Hitler, but I would never say that. That's sloppy historical thinking," Navarro told the San Francisco Chronicle. Rather, he said, he outlined the common traits of Trump and Hitler's pre-election campaigns.
"Hitler said he would make Germany great again, Donald Trump said he would make America great again," said Navarro. "Hitler focused on the Jews and the Poles as foreigners and that they should be driven from Germany, Donald Trump has focused on Muslims."
A professor at the University of Rochester in New York resigned his post as the program director for the college's undergraduate computer science program after making a snide comment to a Facebook invitation to an on-campus event called, "Not My America."
"A bus ticket from Rochester to Canada is $16," Ted Pawlicki wrote. "If this is not your America, then I will pay for your ticket if you promise never to come back."
Pawlicki apologized for the "ill-considered" remarks and stepped down from his position.
"There is no indication that he has the inclination (much less the means) to flee or will otherwise fail to appear as may be legally required. Moreover, Dassey has a strong interest not to flee," Duffin wrote.
He must remain in the Eastern District of Wisconsin and is not allowed to obtain a passport, possess weapons or controlled substances. He is also not allowed to contact with his uncle Steven Avery, another convict in the case, or with members of the victim's family. A social worker would help Dassey to "adjust to freedom following his decade in prison" while he will also be supervised by the United States Probation Office.
You can share this story on social media: