US cold war-era nukes in Europe almost useless, pose 'catastrophic terrorism' risk - report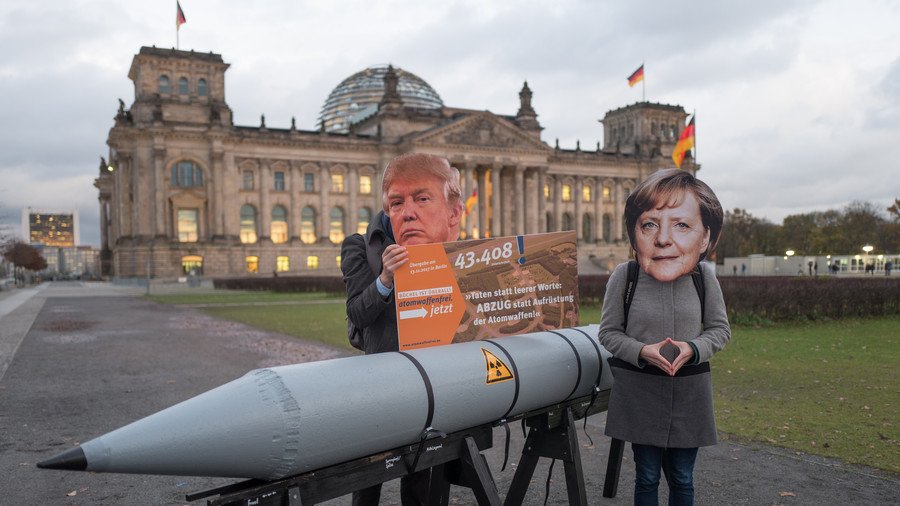 The US plans to spend $10 billion upgrading 150 Cold War-era nuclear bombs stationed in Europe, even though the weapons may be more of a security liability than a strategic deterrent, according to a new report by arms experts.
Assumptions about the safety and security of US nuclear weapons stored in Italy, the Netherlands, Belgium, Germany and Turkey have been undermined by "recent terrorist attacks and political instability," the report, published by arms control advocacy group the Nuclear Threat Initiative (NTI), claims.
A third of the B61 bombs in Europe under joint US-NATO control are believed to be stored at Turkey's Incirlik Airbase – which was locked down and had its electricity cut during the 2016 coup attempt against Turkish President Recep Tayyip Erdogan. The Turkish commanding officer of the base was later arrested for his alleged role in the plot.
Noting "just how quickly assumptions about the safety and security of US nuclear weapons stored abroad can change," the report argues that "forward-deployed US nuclear weapons in Europe increase the risk of accidents, blunders, or catastrophic terrorism and invite pre-emption. Given these added risks, it is past time to revisit whether these forward-based weapons are essential for military deterrence and political reassurance."
Titled 'Building a Safe, Secure and Credible NATO Nuclear Posture,' the report goes on to state that the arsenal of B61 gravity bombs may have little or no strategic value because the weapons would be delivered by NATO dual-capable aircraft (DCA), and cannot be used unilaterally by the United States.
"A number of former senior US officials and military leaders have made the point that US nuclear weapons based in Europe have virtually no military utility … The political complexities of the NATO decision-making process raise doubts that member states could reach consensus on nuclear signaling or use in a crisis," the NTI report said.
"It is hard to envision the circumstances under which a US president would initiate nuclear use for the first time in more than 70 years with a NATO DCA flown by non-US pilots delivering a US B61 bomb."
The Obama administration came close to withdrawing the Cold War nuclear relics from Europe as part of a nuclear disarmament initiative, but the plan was shelved after relations with Moscow nosedived at the end of his last term. Instead, the administration opted for a $10 billion Pentagon program that over the next decade will upgrade the bombs to make them more accurate.
President Donald Trump has embraced the plan. In a statement last month, Trump said that "we must modernize and rebuild our nuclear arsenal, hopefully never having to use it, but making it so strong and so powerful that it will deter any acts of aggression by any other nation or anyone else."
Released earlier this month, the US Nuclear Posture Review (NPR) cites Russia's nuclear modernization as a leading motivator behind upgrades to US arsenals. Moscow says that allegations of a resurgent, "aggressive Russia" have "nothing to do with reality" and are being used as a pretext to pump more money into the US defense industry.
Like this story? Share it with a friend!
You can share this story on social media: