Taliban says Afghan War could continue for 100yrs with no result, calls on US to start peace talks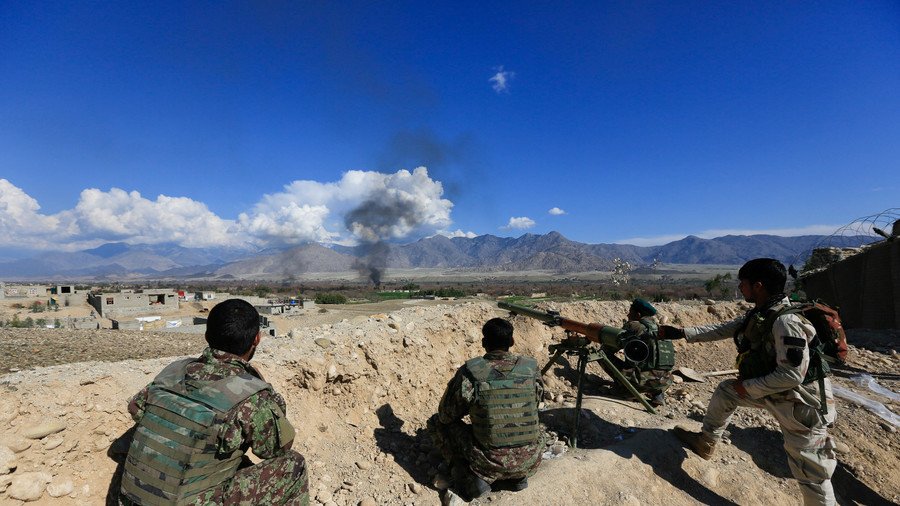 The Taliban has published a letter slamming the US president's new Afghan strategy. It urges Americans and their elected representatives to lobby Donald Trump to choose negotiations, not escalation, in war-torn Afghanistan.
The 10-page letter released by Taliban spokesman Zabiullah Mujahid makes use of statistics and figures in an attempt to sway the "American people" and "peace-loving congressmen" to pressure the White House into peace talks with the group – a move which Trump has publicly opposed.
Citing the "3,546 American and foreign soldiers" killed and the "87 percent rise" in heroin production in 2017, the letter argues that "if the policy of using force is continued for another one hundred years, the outcome will be the same ... as you have observed over the last six months since the initiation of Trump's new strategy."
Last year, Trump announced "new rules of engagement" for US troops in Afghanistan. The US president also ordered 3,000 more troops to the country, vowing that "we're going to finish what we have to finish, what nobody else has been able to finish, we're going to be able to do it." Pentagon officials claim that the "new strategy" has yielded results – an assertion the Taliban disputes in its letter.
"Only in past September — in accordance with Trump's new strategy — American forces used all their new powers and carried out 751 airstrikes. You should ask your generals that despite using such force, have you retaken even a single inch of land from the Taliban, or have they become even more powerful?"
Noting the war's high financial cost, the letter also points to the "tens of billions of dollars" spent in Afghanistan "collected from you in tax and revenue" only to be given to "thieves and murderers."
READ MORE: Tillerson vows Taliban 'will never win,' urges Pakistan to meet US 'conditions' for support
"If you want peaceful dialogue with the Afghans specifically, and with the world generally, then make your president and the war-mongering congressmen and Pentagon officials understand this reality and compel them to adopt a rational policy towards Afghanistan," the letter concludes.
A State Department spokesperson said that the Taliban was welcome to join peace talks with the Afghan government, adding that the recent spate of violence in Kabul, in which two Taliban attacks killed 150 people, does not reflect the letter's overtures for peace.
"The Taliban statement alone does not show willingness to engage in peace talks. The Taliban's recent horrific terror attacks in Kabul speak louder than these words," the spokesperson told the Guardian. "The Afghan government can only negotiate to end the war if the Taliban are ready. The recent attacks show this is not the case."
The Taliban has repeatedly called for direct talks with Washington, dismissing the Afghan government as "mere American puppets."
The Trump administration has sent mixed signals about its willingness to negotiate with the group, which ruled Afghanistan prior to the US-led invasion after the events of September 11, 2001. Last month, Trump bluntly stated that "we don't want to talk to the Taliban." However, Secretary of State Rex Tillerson has said the US is open to talks with "moderate voices" in the Taliban.
However, Washington may not be in a position to pick and choose with whom it will negotiate. After nearly 17 years of war, many feel that Washington is not capable of restoring peace to the region.
"With only 14,000 [US] troops and also a number of Afghan national forces, some of whom at times defect, or at times are incompetent; I don't think they can physically – through their bombs, through their threats – overcome this situation which the allied forces, when they were at their peak failed to do," Sultan Mehmood Hali, a former Pakistani Air Force officer, told RT. "And more threats are only going to create more mayhem, but it is not going to bring peace into the region."
If you like this story, share it with a friend!
You can share this story on social media: