Tense VIDEO of SWAT team freeing Florida students during mass shooting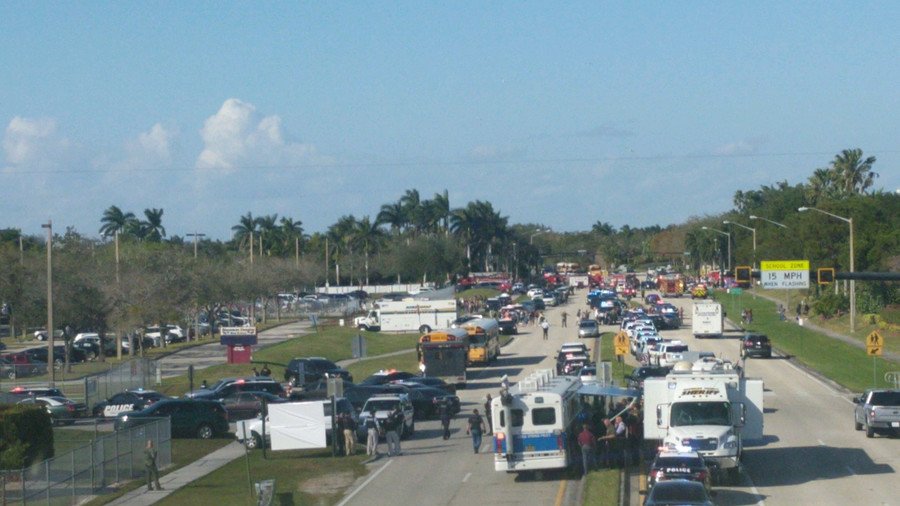 Students filmed a SWAT team entering a classroom to carry out an evacuation following the mass shooting at a Florida high school where 17 people have been confirmed dead.
The footage, filmed by a male student at Marjory Stoneman Douglas High School and shared on Twitter by his older sister, Melody Ball, shows students huddled at the back of a classroom with their supposed teacher standing nearby when a synchronized SWAT team enters the room wielding guns.
READ MORE: Mass shooting in Florida school leaves at least 14 victims, fatalities reported
The terrified students can be heard making noises of relief as the officers make their way into the classroom. Trembling arms can be seen in the air as they follow orders from the elite task force who then asked them to put their phones down, ending the recording.
READ MORE: Florida school shooter identified as 19yo former student
The suspected gunman, 19-year-old Nikolas Cruz, is a former student at the high school in Parkland. He opened fire at the school on Wednesday, killing 17 people and injuring many more, according to Broward County Sheriff. Cruz has since been peacefully remanded into custody.
You can share this story on social media: