Gunman opens fire on packed Birmingham pub (VIDEO)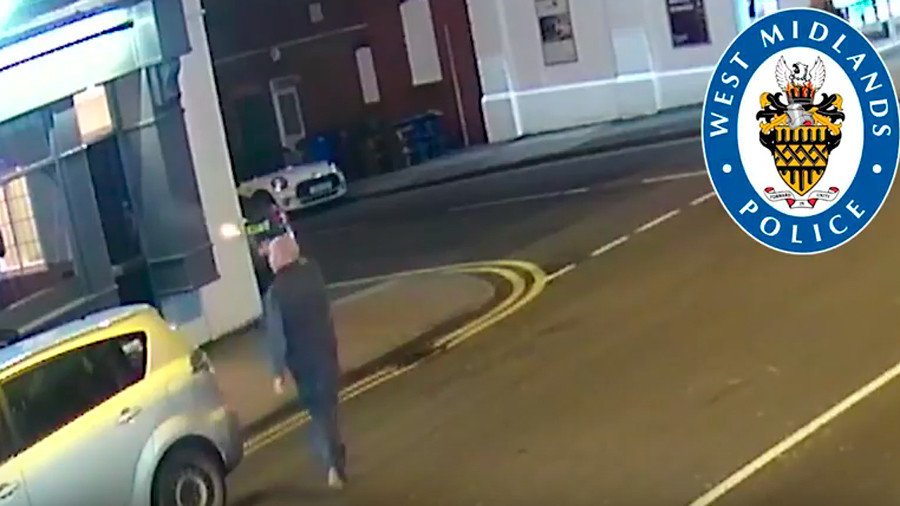 CCTV footage has emerged of the moment a drunk man fired a gun at a crowded pub in Birmingham. He fled the scene in his vehicle before being arrested by armed police.
The video, posted on YouTube by West Midlands Police, shows Lee Embley, 48, opening fire at the pub after one of its door staff refused him entry because of his evident alcohol intoxication.
Embley can be seen being escorted away from the venue, and reaching out to his waistband to take out his black revolver. He then fires a round, before nonchalantly walking away. The bullet smashed through the window of a bedroom where children sometimes sleep.
No one was injured. Following the incident, Embley got into his car and drove off.
Police had to chase him for three miles before Embley crashed into a 'no entry' sign. He had been driving at 80mph on 30mph roads.
Embley told police he had drunk eight cans of strong cider and eight double brandies before the incident. He said that he had no idea where he was when he woke up behind bars.
He pleaded guilty to nine charges following the incident on January 13.
At Birmingham Crown Court on Tuesday, he was jailed for eight years for firearms and ammunition offences and another year for dangerous driving.
Embley, of no fixed address, was also banned from driving for six years.
DC Ian Leech, from the complex crime team, said: "This was a completely reckless shooting which could easily have resulted in the death of an innocent bystander.
"Embley then put further lives at risk by driving while massively over the limit and it is by luck rather than fortune (sic) that no one was seriously hurt or killed.
"Thanks to the excellent police work by the two firearms officers who spotted the car and then put their lives on the line by confronting Embley, we have taken another weapon with the potential to kill off the streets.
"Gun crime is a top priority for West Midlands Police, and the sentence handed down shows that anyone who thinks it's acceptable to carry or use these deadly weapons will face the full force of the law when they are caught."
Like this story? Share it with a friend!
You can share this story on social media: