'Speak softly & carry a big stick': US Navy tweets Roosevelt quote, photo of aircraft carrier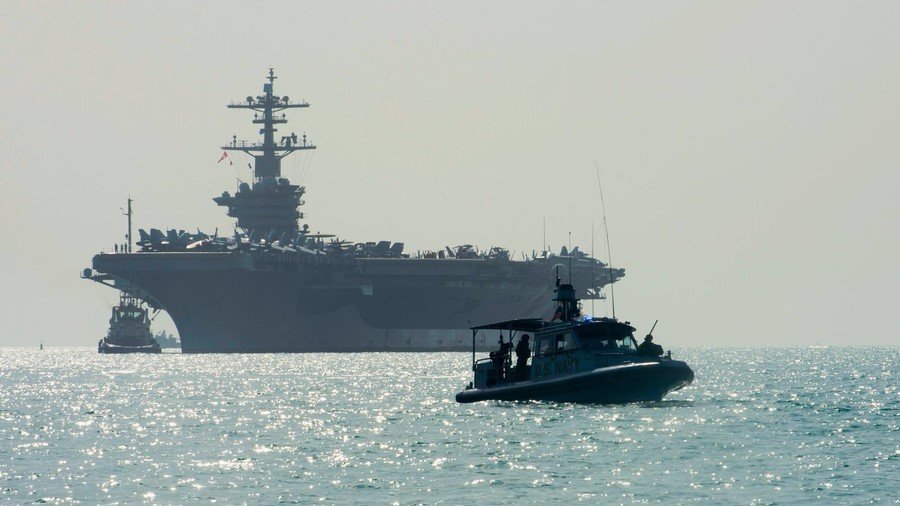 As the Trump administration plans to boost US naval might amid global tensions, the US Navy has tweeted President Theodore Roosevelt's famous phrase reminding adversaries that Washington can "speak softly, and carry a big stick."
The US 5th Fleet, which is based in Bahrain, tweeted the photo of the carrier on Thursday. Underneath the photo is the phrase made famous by Roosevelt himself. The 26th US president wrote those very words in a letter to Henry L. Sprague in January 1900, saying he had "always been fond of the West African proverb."
Roosevelt used the phrase again while serving as vice president in 1901, while outlining his ideal foreign policy. He became president just two weeks later following the assassination of President William McKinley, finally putting "big stick diplomacy" into action.
The most well-known example of this during Roosevelt's presidency was when a group of US warships known as the Great White Fleet peacefully toured the world in a show of military strength. Since then, the term has been defined as peaceful negotiations with the unspoken threat of a powerful military. It appears the US 5th Fleet is now showing its military might.
Reports indicate Trump has grand plans to modernize the US Navy during his term in office and aims to kickstart a program that in the next decade would increase the fleet size from its current 279 vessels to some 355 ships, a Congressional Budget Office report released on Monday noted. While no concrete plans have been announced, the report presented by David E. Mosher, Assistant Director for National Security, estimates that the increase in navy ships would cost at least $20 billion per year.
The Bahrain-based 5th Fleet has repeatedly come into close contact with Iranian vessels in the vicinity of the Persian Gulf and Strait of Hormuz, where up to 30 percent of global oil exports pass annually. Since President Donald Trump took office he has pledged a tougher stance towards Iran, accusing the country of violating the spirit of the 2015 nuclear deal. The US Navy has accused Iran in recent years of jeopardizing international free navigation by "harassing" warships passing through the Strait. Washington warned on several occasions that future incidents could result in miscalculation and lead to an armed clash.
The tweet comes at a time when Washington's policy course on the Iranian nuclear issue is closely monitored by North Korea, a country threatened by the US and its allies. The US Navy and its 7th Fleet based in Japan have played a crucial role in exerting an aggressive military posture towards Pyongyang. For instance, in October USS Nimitz arrived at the 7th Fleet area of operations after departing 5th Fleet area of operations.
The bellicose statement comes at a time when Washington has been accused of throwing around saber-rattling rhetoric against North Korea and acting provocatively with its joint military exercises with other countries in the region.
While the US flexes its muscles, North Korea is not showing signs of weakness. Pyongyang hosted an impressive military parade on Thursday, complete with female sword dancers, a red carpet, and a grinning Kim Jong-un.
As fears mount that tensions between the two will boil over into open military conflict, Russian Foreign Minister Sergey Lavrov has recently warned that such an option would cost more than a million lives. He also pointed out that Washington is increasingly resorting to threats when dealing with Pyongyang.
"We are seeing how the United States every time attempts both to tighten the sanction screws [on North Korea] and to threaten it with the use of force," Lavrov said.
Moscow and Beijing have backed the UN Security Council sanctions on North Korea over its missile tests. However, both also noted on numerous occasions that only a path of dialogue can help resolve the knot on the Peninsula.
In mid-January this year US Congresswoman Tulsi Gabbard warned it is the US and its obsession with regime change that is fueling tensions and forcing Pyongyang to arm itself to the teeth. Gabbard noted that Pyongyang has been offered "unrealistic preconditions" for talks for decades.
"If we set a precondition that Kim Jong-un must get rid of his nuclear weapons, there would be nothing to negotiate. We need to invite North Korea to the table and talk about peace," Gabbard wrote.
Think your friends would be interested? Share this story!
You can share this story on social media: