Trump stepped 'over the line,' gave N. Korea justification to pursue nuclear deterrent – John Kerry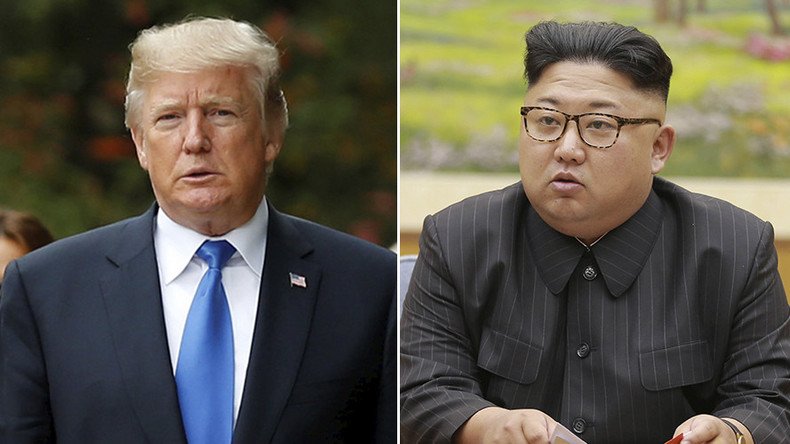 Donald Trump's belligerent rhetoric towards Pyongyang has given North Korean leader Kim Jong-un every reason and justification to arm his country with nuclear weapons, citing the need to protect itself from the US, former Secretary of State John Kerry has warned.
Amid the rising tensions on the Korean Peninsula, President Donald Trump arrived in Seoul on Tuesday. Ahead of his visit to South Korea, Trump branded North Korea a "menace" and "a threat to the civilized world and international peace and stability."
"The era of strategic patience is over. Some people say my rhetoric is very strong, but look what has happened with very weak rhetoric in the last 25 years," Trump said Monday after holding talks with Japanese Prime Minister Shinzo Abe.
Trump has previously threatened that the US is ready to pursue a military option to achieve denuclearization of the peninsula if diplomatic and economic pressure fails. Trump specifically warned Pyongyang that Washington was ready to unleash "fire and fury," and if necessary to "destroy" the North and its leader, whom he has dubbed "Little Rocket Man."
On Monday, former US Secretary of State John Kerry accused Trump of stepping "over the line" with his threats to annihilate North Korea. Kerry specifically noted that Trump's rhetoric might lead to "the risk of tweeting yourself or insulting yourself into a position where something happens."
"It's given North Korea a reason to say, 'Hey, we need a bomb, because if we don't have a bomb, we're going to not be able to protect ourselves and they'll come after us,'" Kerry said in an interview with CNN's chief international correspondent, Christiane Amanpour.
Kerry advised Trump to "make sure that he's not feeding into North Korea's fear of regime change or a unilateral attack or otherwise." Noting the global trend of shifting away from nuclear weapons, Kerry called on the US administration to engage in more dialogue with North Korea.
Donald Trump kicked off his first Asian tour by visiting Japan, a close American ally and longtime trading partner, last week. North Korea marked Trump's visit to Japan by firing off a verbal attack on the "spiritually unstable" US president.
The official North Korean news outlet (KCNA) criticized the "bellicose and irresponsible rhetoric" by the "master of the invective," stating that Trump "needs medicine for curing his psychological disorder."
READ MORE: Pyongyang threatens 'old psychopath' Trump with turning 'America into a sea of flames'
As tensions over the fate of the Korean peninsula mount, Moscow has repeatedly called on both sides to tone down the rhetoric and avoid saber-rattling that could end up leading to a global war.
You can share this story on social media: