Florida police's bizarre crime solving method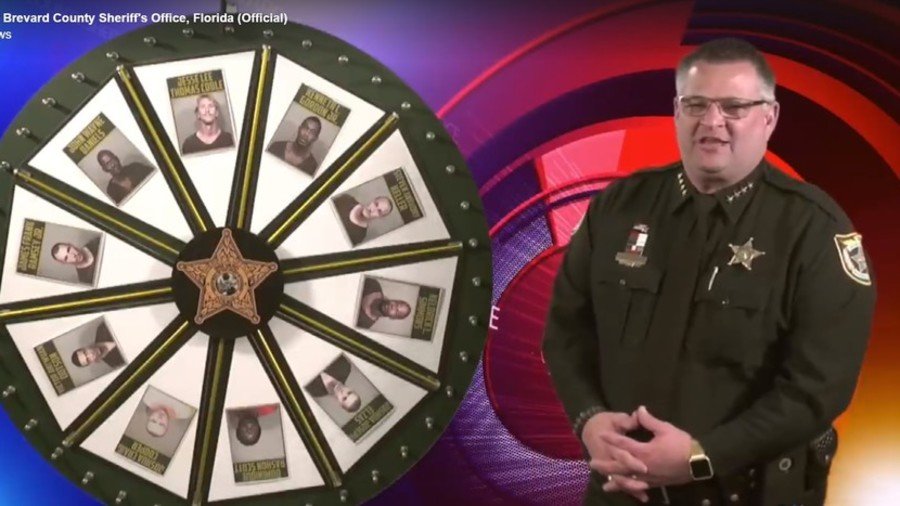 The Brevard County Sheriff's Office in Florida has a novel way to catch wanted fugitives – by playing a bizarre version of Wheel of Fortune called 'Wheel of Fugitive.'
The sheriff's office shares weekly episodes of 'Wheel of Fugitive' on Facebook. It features Sheriff Wayne Ivey, who says the game is "my favourite time of the week."
Ivey spins a wheel featuring different fugitives' mugshots to determine "who we're going after this week."
"We ask our citizens to not only help locate that individual, but all the other fugitives that are up on the wheel," Ivey explained in the latest episode shared on Tuesday.
This week, Kenneth L. Gordon Jr. was named fugitive of the week for a bench warrant failure for driving with a suspended licence. He is also described as being a "habitual traffic offender."
Ivey addressed Gordan in the video, telling him to "do the right thing and turn yourself in."
"If not, our citizens are going to contact our fugitive unit," Ivey said. "Either way, someone's going to tell us where you're at and our fugitive unit's coming to your door."
On Thursday, the Sheriff's Office announced Gordan had been arrested, posting his photograph on Facebook with the words, "Busted," written over it.
"Gordon admitted to knowing he was wanted but said he was unaware he was one of the contestants on the Wheel of Fugitive," Ivey wrote. "Another great job by our Fugitive Unit and now it's time to look forward to next week's episode of Wheel of Fugitive!!"
Brevard County Sheriff has been playing 'Wheel of Fugitive' since the end of 2015.
Ivey introduced the first game in local outlet Space Coast Daily, describing it as being "designed to partner the citizens of Brevard County and law enforcement together to help get fugitives off our streets."
Space Coast Daily reports on each episode of the sheriff's game.
A brief study of the featured fugitives suggests the majority are wanted for driving and drug-related crimes.
Brevard County Sheriff's Office also produces, 'Cookin' Up Justice' a series of videos which highlight a local restaurant and at the same time highlight a featured criminal.
Think your friends would be interested? Share this story!
You can share this story on social media: