'Sir, I have a firearm on me': Dashcam footage of Philando Castile shooting released (GRAPHIC VIDEO)
Published time: 20 Jun, 2017 23:22
Edited time: 21 Jun, 2017 09:32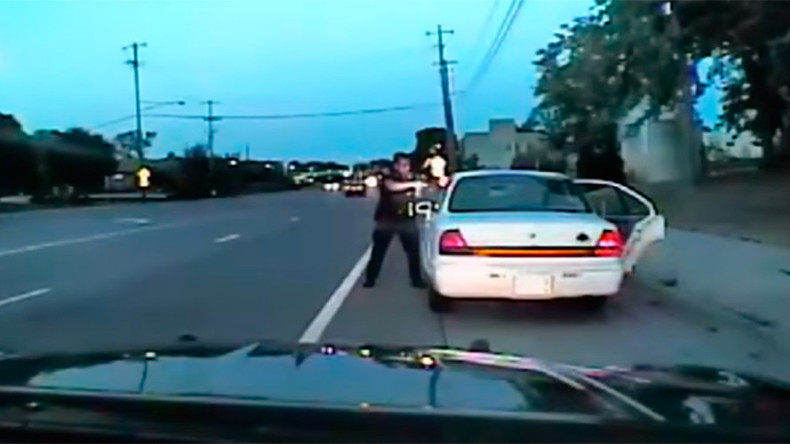 Police footage of the moment officer Jeronimo Yanez fatally shot Philando Castile has been released, days after a jury cleared the Minnesota policeman of all charges relating to the death which was livestreamed on Facebook.
After five days of deliberation, a jury found Yanez not guilty of second degree murder as well as two counts of intentional discharge of a firearm. The verdict spurred demonstrations in St Paul, Minnesota where thousands gathered on the streets.
Yanez fired seven bullets at Castile, hitting him five times, after ordering the school cafeteria supervisor to pull his car over because of a broken brake light.
Castile was a licensed gun owner and told Yanez he was carrying a weapon after he gave the officer his insurance.
Diamond Reynolds, who livestreamed her boyfriend bleeding to death – as their four year old sat in the backseat – maintains Castile was not reaching for a gun, but for his license and registration in his wallet.
While the contents of the dashcam footage are largely known, due to the court case, it's the first time the moments before Reynold's livestream have been seen by the public.
It shows the two speaking calmly, with Castile heard saying: "Sir, I have to tell you that I do have a firearm on me."
Yanez says, "Okay," then tells him not to reach for it.
"I'm not pulling it out," Castile replies. "Don't pull it out!" Yanez says in a more panicked tone. "I'm not!" Castile says as Yanez starts firing into the car.
"Based upon the release of the dashcam video today, it is clear that Officer Jeronimo Yanez was not in control, was nervous and acted in a reckless, willful and wanton fashion," Larry R. Rogers Jr, Reynolds' lawyer said in a statement.