Police to use thousands of cameras, secret playbook to keep fans safe at Super Bowl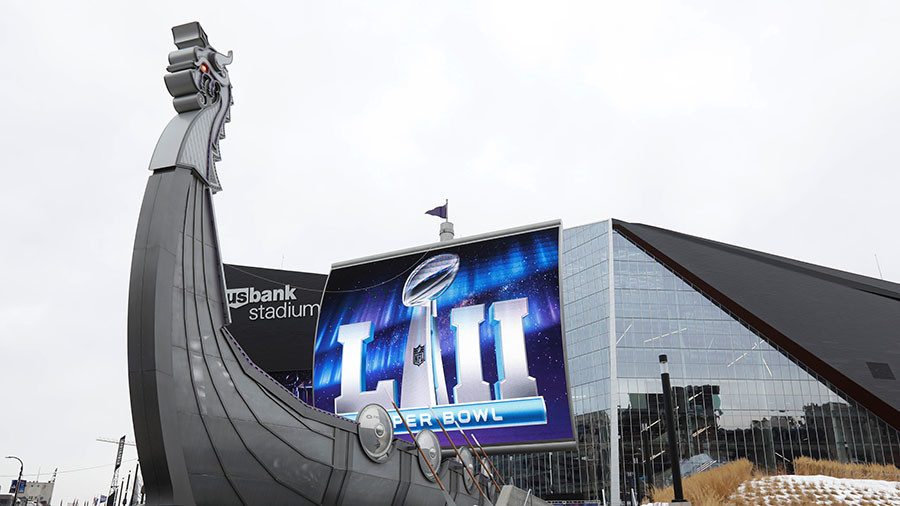 Thousands of security officers will monitor fans during this year's Super Bowl event in Minneapolis, Minnesota. Police in Philadelphia are also trying out a new tactic to keep fans off of light poles this year.
Minneapolis
The Minneapolis Police Department started preparing for the Super Bowl even before the city was accepted to host the event.
For years, dozens of planning groups have been putting together a plan that now involves more than 80 operators watching the stadium and surrounding areas from an undisclosed location that has been fitted with large screens that can monitor fans in real-time.
"Everybody's got their own individual lane of traffic where they're monitoring and controlling and keeping up with what their purview is. And we have a common operating platform that we can electronically talk to each other and post information back and forth," Minneapolis Police Commander Bruce Folkens told the Twin Cities Pioneer Press.
In addition, 2,000 out of the 3,000 officers working the event have been given an app that allows them to record video and send it to the command center, where officers can shift resources to respond to an incident faster.
"When there are problems, we have people here who can make decisions and mitigate any type of issues before they become big issues," Folkens told the Pioneer Press.
From the command center, operators can control more than 2,000 fixed cameras around the city and see the real-time movement of officers on the ground.
The area around the stadium will also be surrounded by more than two miles of fencing and concrete barriers. Fans will have to enter the perimeter through metal detectors and submit to bag checks. Once inside, fans will also be met with more than 100 bomb-sniffing dogs, helicopters, and military-style vehicles.
"Our world has changed, and we really need to make sure that, as a symbol of our freedom for Americans to get together and enjoy pastimes, we need to make sure that safety is first and foremost," Minneapolis Police Chief Medaria Arradondo said, according to the Pioneer Press.
Philadelphia
It has been tradition for Philadelphia Eagles fans to celebrate their team by climbing light poles in the city. In response, police have used Crisco to grease up poles before major sporting events to prevent fans from attempting to climb the poles.
Before the Eagles won the NFC title game against the Vikings last week, city workers greased poles with Crisco, but it did not stop fans.
"Unfortunately it became a thing ahead of time so people thought we were daring them to topple the grease," said Sargent Eric Gripp, a police spokesman, according to the Philadelphia Inquirer.
Many fans have seen the greased poles as a challenge. In fact, the city is home to the annual Grease Pole Climbing Competition, where residents compete to see who can climb a 30 foot pole greased with lard to win prizes of meat, cheese, and money.
This year, the Philadelphia Police Department announced they will no longer use Crisco to keep fans from climbing light poles in the event that the Eagles win the Superbowl. Instead, police are coating the poles with something more slippery this year.
While police did not divulge the secret ingredient they will be using to grease up their poles, Police Commissioner Richard Ross told reporters at a news conference Wednesday that residents will find it "far more difficult" to make the climb.
"I can't tell you that there won't still be attempts, but I just would suspect that some of them would be far more difficult than they were with the Crisco attempts," Ross said, according to the Inquirer.
However, Eagles running backs coach Duce Staley said that, with their announcement, police have actually made climbing the poles more enticing this year.
"You're actually inviting fans when you say, 'You can't do it.' Because our fans, the way they think, if you tell them you can't go up there it just makes them think, 'OK, how can we get up there.' They'll find a way to do it," Stanley said, according to Reuben Frank, who covers Eagles for NBC Sports Philadelphia.
Duce Staley on Philly officials greasing lamp poles: "You're actually inviting fans when you say, 'You can't do it.' Because our fans, the way they think, if you tell them you can't go up there it just makes them think, 'OK, how can we get up there.' They'll find a way to do it."

— Reuben Frank (@RoobNBCS) January 31, 2018
You can share this story on social media: